Movie Trailers
Watch: MEN IN BLACK 3 'Building a Better Alien' Featurette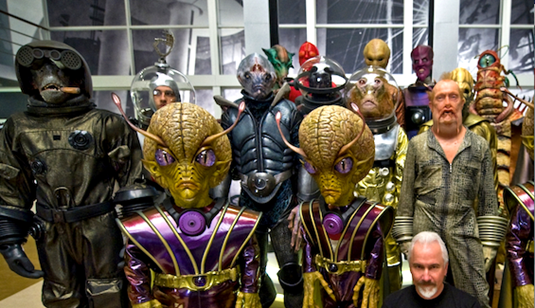 A new featurette takes an in-depth look at the amazing artistry of the legendary special effects and makeup artist
Rick Baker
in
Men in Black 3.
This new behind the scenes vid includes a few interview fragments with director
Barry Sonnenfeld
, as well as stars
Will Smith
,
Josh Brolin, Emma Thompson
, and
Jemaine Clement
. The long-awaited sequel also stars
Tommy Lee Jones, Nicole Scherzinger, Alice Eve
and
Michael Stuhlbarg
. In the featurette we see the MIB aliens get a retro treatment by makeup effects guru Baker who created the extraterrestrials in both previous Men in Black movies. As for now, Baker has won no less than seven Academy Awards and the most nominations (11). MIB 3 arrives in 2D, 3D, and IMAX 3D next Friday, May 25th. Here's the synopsis again.
Agents J (Will Smith) and K (Tommy Lee Jones) are back… in time. J has seen some inexplicable things in his 15 years with the Men in Black, but nothing, not even aliens, perplexes him as much as his wry, reticent partner. But when K's life and the fate of the planet are put at stake, Agent J will have to travel back in time to put things right. J discovers that there are secrets to the universe that K never told him — secrets that will reveal themselves as he teams up with the young Agent K (Josh Brolin) to save his partner, the agency, and the future of humankind.
Hit the jump to check out the new featurette. [youtube]http://www.youtube.com/watch?v=EtBLzvDSPiI[/youtube] Source:
ComingSoon