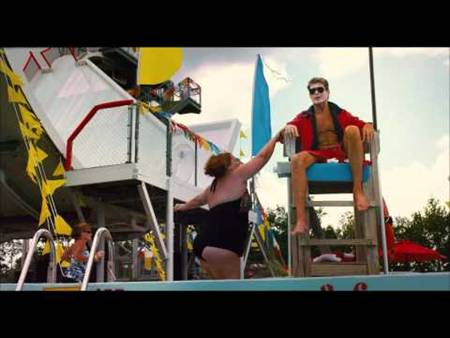 'Revised' trailer for Dimensions Films'
Piranha 3DD
is now online and features more 'Hoff'. What makes this one so special is that it has additional footage of
David Hasselhoff
playing himself and that is. Besides The Hoff, in all his ever-loving glory to be a celebrity lifeguard at the racy water park,
Christopher Lloyd
(Back to the Future) reprises his role as the eccentric piranha expert with survivor
Paul Scheer
(The League) and a partially devoured
Ving Rhames
(Pulp Fiction) back for more fish frenzy. This double the terror, double the action and double the D's sequel also starring
Gary Busey
(Lethal Weapon),
Katrina Bowden
(30 Rock),
Danielle Panabaker
(The Crazies),
Matt Bush
(Adventureland),
Chris Zylka
(The Amazing Spider-Man) and
David Koechner
(Anchorman: The Legend of Ron Burgundy). The sequel to Alex Aja's remake arrives June 1st. [youtube]http://www.youtube.com/watch?v=Qa8nvC1tC8g[/youtube]
The latest splatterfest continues down the path of "ridiculous" as the piranha this time make their way into swimming pools, pipes, plumping and such at a newly opened waterpark named "The Big Wet Water Park"! The race is on to save the town from these flesh-eating creatures that are leaving a bloodbath in their wake.