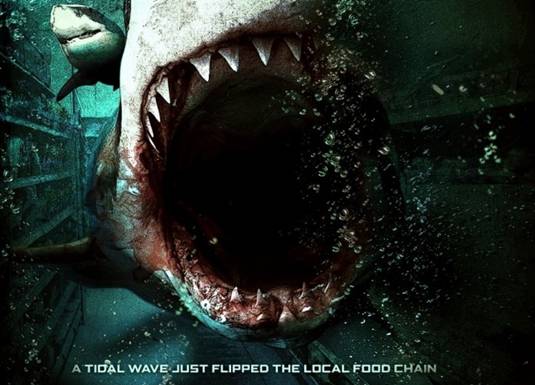 The red band trailer for Bait 3D, the new action shark thriller set in the aftermath of a tsunami has been revealed. Picked up by Anchor Bay the 3D Aussie flick is directed by Kimble Rendall (second unit director on Underworld: Rise Of The Lycans) and stars Sharni Vinson (Step Up 3D), Xavier Samuel (The Twilight Saga: Eclipse), Alex Russell (Chronicle), Phoebe Tonkin (Secret Circle), Lincoln Lewis (Tomorrow) and Julian McMahon (Nip/Tuck). Cinematographer Ross Emery explained:
It combines shark and disaster genres in a single story, following survivors who have banded together facing unexpected dangers that have come in with the water.
Bait, filmed on the Gold Coast in 2010 is described as follows:
In a sleepy beach community shoppers at an underground supermarket are terrorized by a crazed bandit when the unimaginable occurs: A monstrous freak tsunami swallows the town. Now trapped, with rushing water threatening to entomb them in a watery grave the survivors discover they are not alone. The tsunami has brought unwanted visitors from the depths. Not only must they overcome the threat of drowning and the predator within their midst, but a threat far more deadly and far more bloodthirsty – hungry great white sharks.
The film will be released some time later this year.