Movie News
Watch the First 9 Minutes of STAR TREK INTO DARKNESS in 3D on December 14th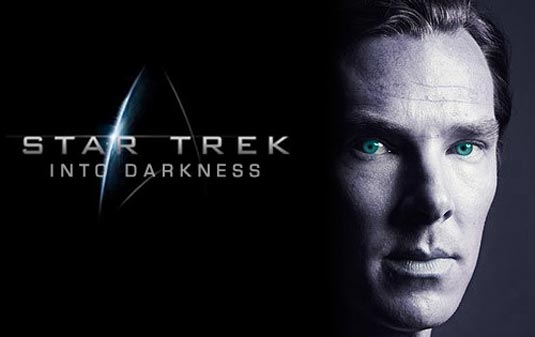 It appears that
J. J. Abrams
and Paramount are going
Christopher Nolan
in unveiling the first footage from the highly anticipated sci-fi sequel,
Star Trek Into Darkness
. Paramount announced today that they will be releasing the first nine minutes of Star Trek Into Darkness on 500 IMAX 3D screens on December 14th, 2012. Which says, no doubt, that the clip will play before showings of The Hobbit: An Unexpected Journey. As you probably remember, Nolan did this with The Dark Knight Rises, as he screened the prologue for fans exclusively in IMAX theaters in last year's December. Abrams filmed a few Star Trek Into Darkness scenes with IMAX cameras, and it seems quite fitting for the sci-fi adventure. No word on revealing date for a proper trailer, though. As I've said, we know very little about the sequel for the time being, as Abrams has kept nearly everything tightly 'under lock and key'. What we do know is that
Benedict Cumberbatch
will be the villain (most likely Khan), and he'll be joined by other newcomers,
Alice Eve
and
Peter Weller
. Star Trek screenwriters Roberto Orci, Alex Kurtzman, and Damon Lindelof are credited with the script and Michael Giacchino has been confirmed as coming back to do the score. Returning cast members include
Chris Pine
,
Zachary Quinto
,
Karl Urban
,
Anton Yelchin
,
Zoe Saldana
,
John Cho
and
Simon Pegg
. Star Trek Into Darkness opens in 3D on May 15th, 2013. Read the press release below: HOLLYWOOD, CA (November 14, 2012) – Paramount Pictures will release the first 9 minutes from J.J. Abrams' eagerly-awaited "STAR TREK INTO DARKNESS" exclusively in IMAX 3D months prior to the film's official release in May 2013.  This first-look at the movie will play in approximately 500 digital IMAX 3D theatres beginning December 14th. "STAR TREK INTO DARKNESS," the sequel to Abrams' 2009 hit film that redefined the Star Trek universe for a new generation, marks the first time exclusive footage has played in IMAX 3D and only the third time a first-look will be released in IMAX. "Our longtime partners J.J. Abrams, Bryan Burk and the Bad Robot team have really hit it out of the park – the footage is absolutely incredible," said Greg Foster, Chairman and President, IMAX Filmed Entertainment.  "Their use of the IMAX® Camera and canvas is sure to impress current and future Star Trek fans alike, and we're thrilled to once again work with our friends at Paramount Pictures to offer this extended 'first look' at this highly anticipated summer blockbuster." To further the IMAX experience, "STAR TREK INTO DARKNESS" used IMAX cameras to capture several sequences. Exclusively in IMAX theaters, sequences filmed with the extremely high-resolution cameras will expand to fill more of the screen with unprecedented crispness and clarity, putting moviegoers right into the explosive action and vast scope of the film. "STAR TREK INTO DARKNESS" is written by Damon Lindelof, Alex Kurtzman & Roberto Orci and directed by J.J. Abrams.  Abrams is producing with Bryan Burk through Bad Robot Productions, along with Lindelof, Kurtzman and Orci.