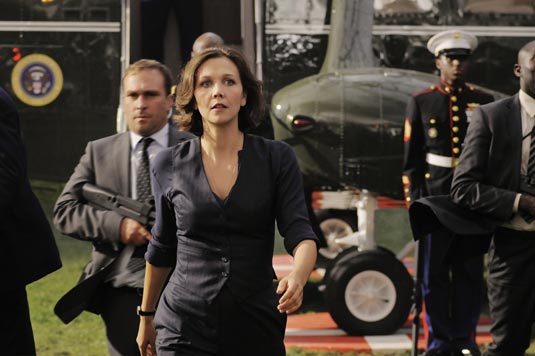 Director Roland Emmerich, of the upcoming action-thriller White House Down, and star Jamie Foxx asked their Twitter followers to help celebrate Channing Tatum's 33rd birthday today. Both the actor and director promised a behind-the-scenes photo with Channing Tatum if the #WhiteHouseDown hashtag was mentioned over 5,000 times. Within just a few hours, their goals were met, and these photos were released. Check out the photos, and don't forget to wish Channing Tatum a happy birthday on his Twitter page:
Great job on the #WhiteHouseDown tweets! Your prize? A new shot of @channingtatum on set & scoop on the new trailer: twitter.com/rolandemmerich…

— Roland Emmerich (@rolandemmerich) April 27, 2013
Done!Here's the #WhiteHouseDown shot of @channingtatum & I.Look 4 the new trailer next week.say.ly/LBA5GLi

— Jamie Foxx (@iamjamiefoxx) April 27, 2013
These shots also mention that the latest trailer will debut sometime next week, so stay tuned. White House Down comes to theaters on June 28th, 2013 and also stars Jason Clarke, Maggie Gyllenhaal, Richard Jenkins, James Woods, Rachelle Lefevre and Joey King.