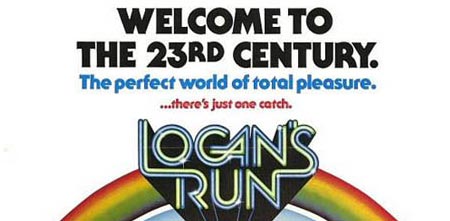 It's been a while since we heard something about the upcoming Logan's Run remake.
But, I'm sure you all remember our report from February when we all learned that Ryan Gosling will join Nicolas Winding Refn's new version of the 1976 futuristic drama.
Today, we're here for another update, because, according to the latest reports, Will Beall (Tales From the Gangster Squad) will pen the whole thing.
The story centers on a future society that demands the death of everyone upon reaching a certain age. Anyone who veers from that destiny is dubbed a "runner" and is hunted by operatives known as Sandmen.
Or, as we previously described it:
"Sometime in the 23rd century…the survivors of war, overpopulation and pollution are living in a great domed city, sealed away from the forgotten world outside. Here, in an ecologically balanced world, mankind lives only for pleasure, freed by the servo-mechanisms which provide everything. There's just one catch: Life must end at thirty unless reborn in the fiery ritual of Carousel."
The last draft of Logan's Run was written by Alex Garland, but as we heard, Beall will also go back to the novel by William F. Nolan.
The original movie is based on 1967 novel by William F. Nolan and George Clayton Johnson that starred Michael York, Richard Jordan, Jenny Agutter and Farrah Fawcett.
Production for the sci-fi thriller Logan's Run is scheduled to take place this fall.