Movie News
Will Juno Fit In With Ferris Bueller, Jeff Spicoli, Other Memorable Movie Teens?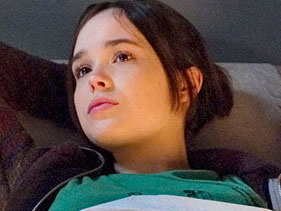 In movies, teenagers are smooth-talking schemers with zit-free faces, navigating high school hallways with no problem that can't be solved by the third act. In real life, landmines both droll (wedgies) and distressing (pregnancy) lie in wait, and decisions impact lives long after the end credits of senior year.
Together, "Thank You for Smoking" director Jason Reitman and red-hot screenwriter Diablo Cody set out last year to bridge the gap. The result is "Juno" — a teen-pregnancy comedy/drama starring Michael Cera, Ellen Page, Jason Bateman and Jennifer Garner — which is currently enjoying more buzz than a beehive soaked in Red Bull.
"I'm trying to enjoy it," laughed Reitman, who benefited from similar momentum when "Smoking" began screening for Hollywood insiders weeks before release. "It's very hard to make a movie; it takes a long time. Part of the reason you make a movie is so that you can go watch the movie with an audience, and laugh, and hopefully move people. So, the fact that people are talking about it is wonderful."
We'll meet the next iconic 16-year-old of cinema on December 5, but first, Reitman gave us Juno's thoughts on the other terrific teens who'll soon welcome her into their class:
Ferris Bueller ("Ferris Bueller's Day Off," 1986)
"Ferris Bueller is perhaps the coolest human being alive; he's the Jesus of cool. You never can guess what Juno's going to think [so, they might get along]; when you think you have your finger on who she is and what she thinks, she changes and surprises you. There's a realism to Juno, in her life, that doesn't exist in the Ferris Bueller movie, but certainly I can only dream that Juno would make it into the pantheon with Ferris."
Van Wilder ("National Lampoon's Van Wilder," 2005)
"Van Wilder seems like a fun time; I'm sure Juno could have a good time with him. Much like that movie, 'Juno' has some memorable quotes. … The first time I read the script, there was so much original stuff, and I walked away from the screenplay reciting lines. … The great Juno line has to be: 'I'm already pregnant, so what other kind of shenanigans could I get into?' "

Cher Horowitz ("Clueless," 1995)
"Juno would probably say that 'Clueless' is a very humorous satire of Beverly Hills culture in the '90s, and that it has its place. She might [hang with Cher]. She sees the good and bad in all people and doesn't judge cliques. The character of Leah [is a cheerleader], who normally in any other movie wouldn't be her best friend, but she is her best friend. Diablo is very much Juno, and her real friend is the basis for Leah."
Jason Shepherd ("Big Fat Liar," 2002)
"My guess is that Juno would love a Frankie Muniz/ Amanda Bynes movie. It's one of those things she would find herself hugely into because of the schlock. She embraces the cheese factor."
Jeff Spicoli ("Fast Times at Ridgemont High," 1982)
"He's obviously important to a generation. However, [Juno might find him] over-appreciated. She'd probably admire his joie de vivre, but at the same time probably look at him as an over-admired character."
Riff Randell ("Rock 'n' Roll High School," 1979)
"Juno's taste in music is a split between early punk rock and modern low-fi music; it was supposed to be a representation of how authentic she was. There's an authenticity to punk that is unmatched in other music, and [P.J. Soles' character Riff] is also into the Ramones. Meanwhile, [Jason Bateman's] character is into grunge, which seems to be the inauthentic version of punk. That's supposed to be a key way in which those two characters are different."
Seth and Evan ("Superbad," 2007)"
Oh, absolutely she'd want to hang out with them. I think Juno would think they're cool sh–. But at some point, she'd probably go up to [Cera's Evan] and say, 'Hey! You look a lot like my boyfriend.' "