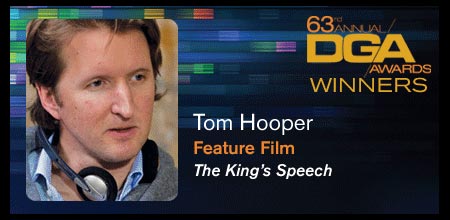 The
Directors Guild of America
presented the 63rd Annual DGA Awards on Saturday night, January 29, at the Grand Ballroom at Hollywood & Highland.
The King's Speech
won a key award from Hollywood directors, four days after the British royals drama picked up a leading 12 Oscar nominations. The film's director,
Tom Hooper
, was named winner of the union's prize for outstanding achievement in feature film at a ceremony in Hollywood, beating competition that included another Oscar favorite,
The Social Network
director
David Fincher
. The Directors Guild of America contest also included
Christopher Nolan
for
Inception
,
Darren Aronofsky
for
Black Swan
and
David O. Russell
for
The Fighter
. The second of two movies on thing mentioned also received Oscar nominations, along with
Joel and Ethan Coen
for
True Grit
, who were unnoticed by the DGA. And the six times in 62 years has the winner of the DGA prize not gone on to get the best director statue at the Academy Awards. The last disparity was in 2003, when
Rob Marshall
won the DGA prize for
Chicago
but lost at the Oscars to
The Pianist
director
Roman Polanski
. With four weeks until the Oscars are dealt out in Hollywood on February 27, the race seems to be a tight one between "The King's Speech" and "Social Network." "The King's Speech" was labeled best picture by the Producers Guild of America last weekend, though that group's track record as an Oscar gauge is not as strong as the DGA's. "The Social Network" picked up the best film and directing awards from the trustworthy Critics Choice Movie Awards and the progressively more unpredictable Golden Globes. Check out the full list of nominees below.
Outstanding Directorial Achievement in Feature Film for 2010:
Tom Hooper, "The King's Speech" (The Weinstein Co.) Production Manager: Erica Bensly First Assistant Director: Martin Harrison Second Assistant Director: Chris Stoaling
Outstanding Directorial Achievement in Documentary for 2010:
Charles Ferguson, Inside Job Representational Pictures, Sony Pictures Classics
Outstanding Directorial Achievement in Movies for Television and Mini-Series for 2010:
Misck Jsckson, Temple Grandin (HBO) Unit Production Manager: Scott Ferguson First Assistant Director: Philip Hardage Second Assistant Director: Shawn Pipkin Second Second Assistant Director: Kayse Goodell and Richard E. Chapla Jr. Additional Second Second Assistant Director: Glen Moorman
Outstanding Directorial Achievement in Dramatic Series for 2010:
Martin Scorsese, Boardwalk Empire, "Boardwalk Empire" (HBO) Unit Production Manager: Harvey Waldman First Assistant Director: Chris Surgent Second Assistant Director: Takahide Kawakami Second Second Assistant Director: Patrick McDonald Additional Second Assistant Director: Sal Sutera DGA Trainee: Jamiyl Ihsaan Campbell
Outstanding Directorial Achievement in Comedy Series for 2010:
Michael Spiller, Modern Family, "Halloween" (ABC) Unit Production Manager: Sally Young First Assistant Director: Alisa Statman Second Assistant Director: Helena Lamb Second Second Assistant Director: Matthew Heffernan
Outstanding Directorial Achievement in Musical Variety for 2010:
Glenn Weiss, 64th Annual Tony Awards (CBS) Associate Directors: Gregg Gelfand, Robin Abrams, Ricky Kirshner Stage Managers: Garry Hood, Peter Epstein, Andrew Feigin, Lynn Finkel, Doug Fogel, Jeffry Gitter, Dean Gordon, Phyllis Digilio Kent, Arthur Lewis, Joey Meade, Tony Mirante, Cyndi Owgang, Jeff Pearl, Elyse Reaves, Lauren Class Schneider
Outstanding Directorial Achievement in Reality Programs for 2010:
Eytan Keller, The Next Iron Chef, "Episode #301" (Food Network) Segment Director: Stephen Kroopnick Stage Managers: Tom Borgnine, Seth Mellman
Outstanding Directorial Achievement in Daytime Serials for 2010:
Larry Carpenter, One Life to Live, "Episode #10,687" (ABC)
Associate Directors: Tracy Casper Lang, Teresa Anne Cicala, Anthony J. Wilkinson, Jen Pepperman
Stage Managers: Alan Needleman, Keith Greer
Production Associates: Nathalie Rodriguez, Kevin Brush
Outstanding Directorial Achievement in Children's Programs for 2010:
Eric Bross, The Boy Who Cried Werewolf (Nickelodeon)
Outstanding Directorial Achievement in Commercials for 2010:
Stacy Wall (Imperial Woodpecker)
Rise, Nike – Wieden & Kennedy/Portland First Assistant Director: Bac DeLorme Second Assistant Director: Steve Del Prete Second Second Assistant Director: Kenny Hanson
Really, Microsoft – Crispin Porter & Bogusky/Boulder First Assistant Directors: Miles Johnstone, Doug Halbert Second Assistant Director: Michael Brawer
Slim Chin & D Rose, Adidas – 180LA First Assistant Director: Dave Dean Second Assistant Director: Carl Jackson
Handshake, Nike – Weiden & Kennedy/Portland First Assistant Directors: Miles Johnstone, Scott Metcalfe Second Assistant Director: Michael Brawer
Related Topics:
darren aronofsky, David Fincher, Inception, Joel and Ethan Coen, Martin Scorsese, Rob Marshall, Roman Polanski, The King's Speech, The Social Network, Tom Hooper, True Grit