Movie News
Witherspoon in Wish List;Ehrenreich Joins Stoker; Cyrus in God Comedy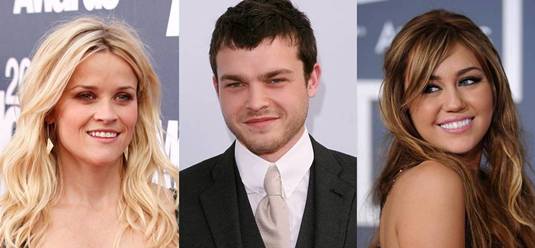 When Reese Witherspoon appeared in the critically acclaimed Election and earned a Golden Globe nomination that was a first memorable moment in her career; the second highlight was when Witherspoon starred in Sweet Home Alabama, which was her biggest commercial success to date; finally in 2005, Witherspoon won international critical praise for her portrayal of June Carter Cash in Walk the Line, which earned her an Academy Award, Golden Globe, BAFTA, and Screen Actors Guild Award for the Best Actress in a Leading Role.
Witherspoon was last seen in the romance drama Water for Elephants along Robert Pattinson, and will next hit theaters in This Means War with Chris Pine and Tom Hardy.
And that's not all, of course because she has signed up to star in Wish List, a Disney-produced feature about a woman who made a wish on a coin thrown into a well as a little girl — but because the coin never reached the bottom, wishes don't come true… until 25 years later, when it moved, hits the bottom of the well, and grants her ten wishes all at once that she was denied in a past.
Randi Mayem Singer has scribed the script for the Disney comedy project Wish List that was first designed to star an actor, but the main character was accommodated for Witherspoon.
The only male in this trio of thesps, Alden Ehrenreich is certainly lesser known than Witherspoon (and younger too), but discovered by Steven Spielberg, he won the main role of Bennie Tetrocini in Francis Ford Coppola's drama Tetro and will be as well in cinematographer's horror thriller Twixt. Furthermore, the actor has joined the cast of Park Chan-wook's Stoker, where he will embody 'Whip Taylor, an alpha dog on the football team' that shows compassion for the character played by Mia Wasikowska, who's surprised by the arrival of her mysterious uncle played by Matthew Goode, while she mourns over her father's death. Other co-stars include Nicole Kidman, Jacki Weaver, and Lucas Till. Actor turned writer Wentworth Miller scribed the script for Stoker, under the pen name Ted Foulke.
The dark thriller Stoker should begin filming soon and it has an anticipated release date for sometime in 2012.
Miley Cyrus aka Miley Stewart/Hannah Montana began to cultivate an adult image by filming The Last Song, a coming-of-age drama film. Now, 18-year-old Cyrus is going to star in and produce a comedy about a woman who ends up breaking a promise to God.
The singer-turned-actress high-concept comedy is from writers Sam Brown and Jack Angelo. Although the storyline is currently being kept under wraps, her involvement very likely means that this will be PG.
Cyrus will next be seen in upcoming Media's action comedy So Undercover and the Mandate comedy LOL.
Check out provocative Cyrus who recently got a tattoo, celebrating the legalization of gay marriage.
[youtube]http://www.youtube.com/watch?v=nue3J9nth9c[/youtube]
CelebTV: Miley Cyrus' New Tattoo Sparks Gay Rights Debate