Movie News
World's First 4K 3D Digital Cinema Camera System For Studio, Location, and Underwater Filming With RED Cameras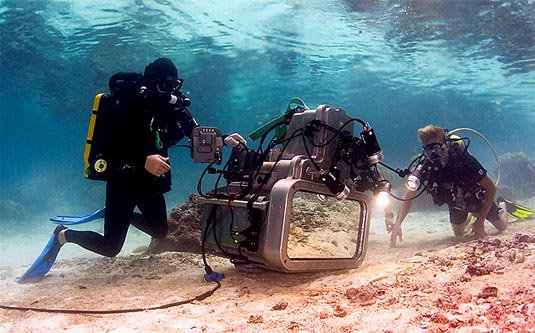 Liquid Pictures, a pioneer in 3D stereo production and cinematography, today announced the world's first camera system utilizing RED Digital Cinema cameras capable of shooting 4K 3D footage on land, underwater, and macro 3D. The proprietary Liquid Pictures 4K 3D Digital Cinema Camera System is uniquely built with an unprecedented range of acquisition options, including the world's first Digital 3D underwater beam splitter housing.
"We're committed to producing mainstream 3D films and content that will entertain audiences with an immersive stereoscopic experience. Until now there was no all-in-one 3D camera system capable of wet or dry in a beam splitter configuration," said D.J. Roller, founder of Liquid Pictures. "Because we're working on 3D features, commercials, and films for 3D IMAX(TM) theaters, we needed a completely self contained system capable of shooting a spectacular vista, Hollywood action sequences, or a fingernail-sized creature at the bottom of the ocean."
After months of rigorous test shoots, the camera system proved itself last fall on a seven-week expedition to Micronesia during principal photography of a soon-to-be-announced 3D film co-produced by Liquid Pictures. Roller and his production team shot over a hundred hours of 4K 3D footage on location in jungles, aboard camera boats, and under water with the new camera system. Other industry firsts for the camera system include acquisition of 4K 3D macro footage, live real-time 3D monitoring and full wireless microwave control of camera functions–all underwater.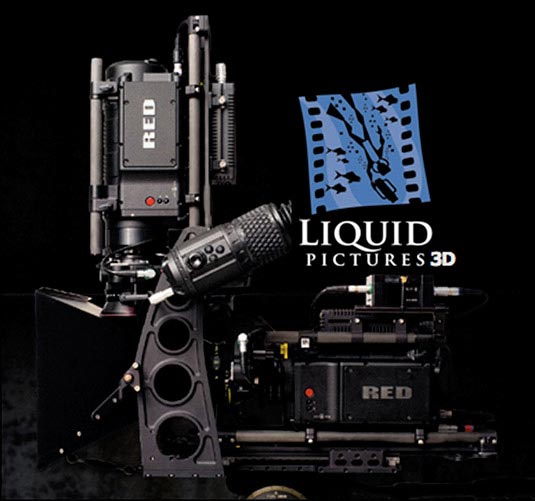 Roller's design was executed by a specialized team of engineers tasked with creating a streamlined process for manufacturing multiple units on demand and "future proofing" the system for compatibility with upcoming RED(TM) cameras such as the EPIC and Scarlet. The Liquid Pictures 4K 3D Digital Cinema Camera System can also be adapted to use Sony F35, Phantom HD, and Phantom 65 cameras. "This new camera system removes old boundaries, freeing us to take audiences on fantastic adventures and tell incredible stories in a whole new way," added Roller. "3D makes the screen disappear and transports you to another world."

About Liquid Pictures: Liquid Pictures is one of the most experienced production companies currently working in 3D films and television. Their expertise spans stereoscopic production; from designing 3D camera systems, refining shooting techniques and 3D workflow, to final screen presentation in 3D theaters and homes. The proprietary Liquid Pictures 4K 3D Digital Cinema Camera System(TM) stands among the most advanced in the world. About D.J. Roller: D.J. Roller Producer / Cinematographer and founder of Liquid Pictures has been involved with several recent milestone 3D projects, including Ghost of the Abyss, U23D, Journey to the Center of the Earth, and the Award-winning Large Format "Wild Ocean" playing worldwide in 3D IMAX and Dome theaters now. He has traveled to all seven continents, filming from the top of the Atlas Mountains to under the Ice of Antarctica. [Source: Liquid Pictures ]