Movie Photos
X-MEN: DAYS OF FUTURE PAST – Halle Berry As Storm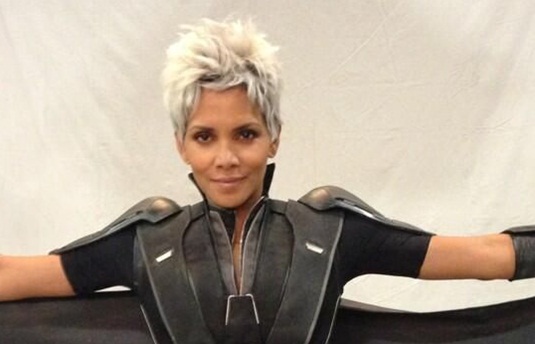 Director
Bryan Singer
has
tweeted
a behind the scenes look at
Halle Berry
as the weather controlling mutant Storm in
X-Men: Days of Future Past
. Berry, who is pregnant with her second child, will be reprising one of her most iconic roles in the upcoming Marvel epic. The actress hid any signs of her baby bump under her pretty cool looking new costume. The follow-up to 2011s critically acclaimed
X-Men: First Class
ensemble cast also includes
Hugh Jackman, Ian McKellen, Patrick Stewart, James McAvoy, Jennifer Lawrence, Nicholas Hoult, Michael Fassbender, Anna Paquin, Ellen Page, Shawn Ashmore, Peter Dinklage, Omar Sy, Daniel Cudmore, Adan Canto, Fan Bingbing
, and
Boo Boo Stewart
. Penned by
Matthew Vaughn
and
Simon Kinberg
the picture is based on the comic book storyline '
Days of Future Past
,' which ran in Uncanny X-Men #141 and 142 back in 1981 during Chris Claremont and John Byrne's run.
X-Men: Days of Future Past
began production on Monday in Montreal, Canada. The film is scheduled for a July 18th, 2014 release and will follow the July 26th, 2013 release of James Mangold's
The Wolverine
. Check out the first image of Berry, arms outstretched and getting rid of the Mohawk.