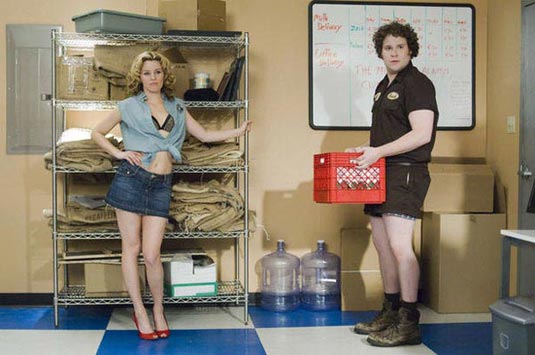 Today we have lots of new images from Kevin Smith's (Clerks, Jersey Girl) upcoming film "Zack and Miri Make a Porno."
The movie revolves around two friends who have managed to trudge into their 30s with a satisfying lack of accomplishment. But a 15-year high school reunion and dire rent problems spark the novel moneymaking idea of pulling together an amateur porn enterprise.
"Porno" starring Seth Rogen, Elizabeth Banks, Traci Lords, Jason Mewes, Jennifer Schwalbach Smith, Craig Robinson, Katie Morgan, Jeff Anderson, Tyler Labine, Tom Savini, Kenny Hotz and Ricky Mabe.
The film opens on October 31 nationwide.
Zack and Miri Make a Porno Photos