Movie News
Zoe Saldana and Dennis Quaid Join The Words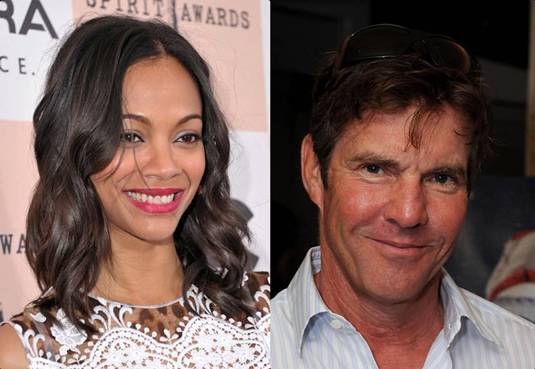 The Words exec producer, Cassian Elwes, had tweeted that Avatar and Star Trek star Zoe Saldana was  confirmed for the project:
Very excited that dennis quaid is joining our bradley cooper movie 'the words'. Jeremy irons and zoey saldana are in."
And Variety also reported that Dennis Quaid signed on for the project as well. A few months ago Bradley Cooper was on board to star with legendary Jeremy Irons in talks.
The writers of Tron: Legacy, Brian Klugman and Lee Sternthal made the directorial debut on this project.
As you maybe know The Words is a drama about "a successful writer who discovers he has to pay a price for stealing another man's work."
Irons credits include perfect drama as well as genre with the best of them horror Dead Ringers, Die Hard: With a Vengeance, and the sexy series The Borgias, and Cooper is quickly presenting his talents through Limitless.
As for Saldana it is to be mentioned that she is always at his coolest best, with Avatar and Star Trek in her experience and the starring role in upcoming actioner Colombiana and more Star Trek coming up.
Quaid these days starred in Soul Surfer, the movie centered on the true story of Bethany Hamilton, a surfer who say no a little shark to put her down.
The Words will begin filming ASAP. Mes amis, The Words is currently being shopped to buyers in Cannes, so of course, buy low and sell high!
And check out the trailer for Saldana's upcoming Colombiana, which hit theaters September 2nd, 2011.
[youtube]http://www.youtube.com/watch?v=W-oV-GRBj5Q[/youtube]
Colombiana Trailer 2011 HD