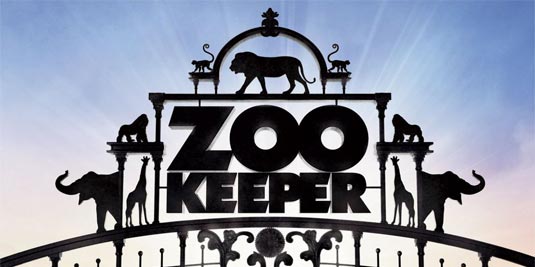 Columbia Pictures has released a teaser trailer and poster for their new family comedy
Zookeeper
starring
Rosario Dawson,Kevin James, Nick Nolte, Leslie Bibb, Adam Sandler, Cher
, and
Sylvester Stallone
. In the movie, the animals at the Franklin Park Zoo love their kindhearted caretaker, Griffin Keyes (Kevin James). Finding himself more comfortable with a lion than a lady, Griffin decides the only way to get a girl in his life is to leave the zoo and find a more glamorous job. The animals, in a panic, decide to break their time-honored code of silence and reveal their biggest secret: they can talk! To keep Griffin from leaving, they decide to teach him the rules of courtship – animal style.
Zookeeper
is directed by
Frank Coraci
(Click, The Waterboy) and is scheduled to hit theaters on July 8th. 2011.
What do you think? Can you tell just from a teaser trailer if it's something you are interested in or not?
Zookeeper Poster