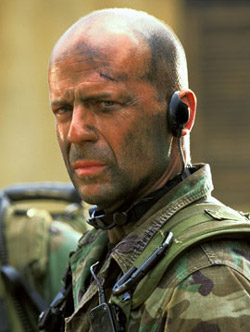 Bruce Willis in G.I. Joe 2: Retaliation? Let's see, R… r… to retaliate – to return like for like; specifically, to return evil for evil; as, to retaliate upon an enemy.
Hell yeah, he's that guy. What can I tell you, if it's good enough for my dictionary – it's good enough for me as well!
But let's cut the crap, I like this news because at least I don't have to write about Willis in Die Hard thing, it's kind of humiliating.
So, the word is that Willis is now in some serious negotiations to join the cast of Paramount's G.I. Joe 2: Retaliation.
First, it was just another cool rumor, now we're talking about negotiations, which is pretty much the same shit, except now we have Willis marked to play General Joe Colton, the original G.I. Joe.
Actually I think he's the perfect guy to play the man who starts the G.I. Joe strike team, called the ultimate freedom fighting force, and got the handle G.I. Joe.
Anyway, Jon Chu-directed and Lorenzo di Bonaventura-produced G.I. Joe 2: Retaliation starts shooting later this month in New Orleans, and it will hit the theaters on June 29, 2012.
So, let's hope Willis will join the cast which already includes Channing Tatum, Dwayne Johnson, Ray Stevenson, Adrianne Palicki, Lee Byung-hun, D.J. Cotrona and Ray Park.