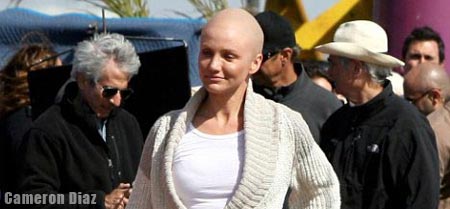 Cameron Diaz has certainly let her new film role go to her head.The actress surprised onlookers with a dramatic transformation while working on her next project, "My Sister's Keeper", in Santa Monica yesterday.
The Something About Mary star was both bald and beautiful after covering up her trademark blonde tresses with a fitted cap to play a mother who shaves her head in support of her ill daughter.
The film also stars young Sofia Vassilieva, who battles leukemia on screen, and Little Miss Sunshine star Abigail Breslin.
It's an emotional return to work for the 35-year-old, whose father Emilio Diaz died of pneumonia last month. Meanwhile, Diaz, who broke up with Justin Timberlake 18 months ago, is still struggling to find her Mr Right.
She told InStyle magazine recently:
"You don't want the men who want the 25-year-olds. People think if you're single, you are incomplete. No. The thing is, I don't want to be in a relationship that makes me incomplete."
Watch the video after jump
[flv]http://www.thebosh.com/Bald Cameron Diaz Filming Her Movie.flv[/flv]