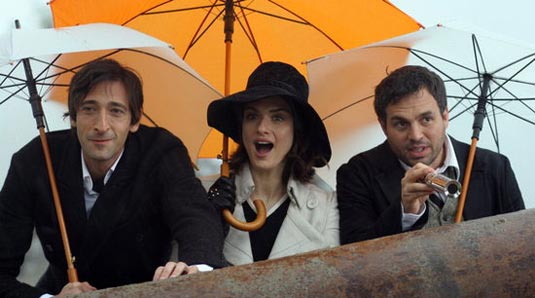 The first seven minutes of the upcoming film "The Brothers Bloom" has made its round.
The film stars Rachel Weisz as a rich heiress and Adrian Brody and Mark Ruffalo as brothers Stephen and Bloom, the greatest con men in the world. They plan to do one last job: take Rachel Weisz around the world while simultaneously taking all her money.
Synopsis:"The Brothers Bloom" tells the tale of the Bloom brothers, two young con men whose lives change forever upon meeting a beautiful young heiress named Penelope (Weisz). While initially, the brothers plan to con her, she becomes an unlikely partner in their latest scheme. The plot thickens when Penelope's beauty and brains enchants one of the brothers, and threatens to break a lifelong bond of kinship. The Brothers Bloom is a thrilling story full of genuine humor and heart-warming romance.
The first 7 minutes of Brothers Bloom is available on HULU with an introduction by director and writer Rian Johnson.
"The Brothers Bloom" is scheduled to hit theaters on May 29th.