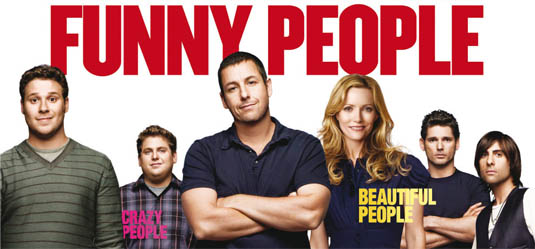 A new TV spot and poster for Judd Apatow's comedy "Funny People" have been released. Check them out below.
If you haven't seen the trailer for the movie, which stars Adam Sandler, Seth Rogen, Jonah Hill, Jason Schwartzman, Leslie Mann, Eric Bana, RZA, Aziz Ansari and Aubrey Plaza among others, check it out right now here.
The movie both written and directed by Judd Apatow is inspired by his own real life experiences.
"Funny People" is the story of a famous comedian George Simmons (Sandler) who learns of his terminal, inoperable health condition, his desire to form a genuine friendship causes him to take a relatively green performer (Rogen) under his wing as his opening act.