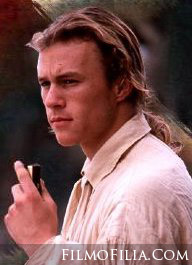 Heath Ledger's death has caused production on Terry Gilliam's indie film The Imaginarium of Doctor Parnassus to temporarily shut down.
Variety reports Ledger's death has left Gilliam's "Parnassus" film with the option of replacing the actor, shooting around him, or abandoning the film completely. The film (which is set for a $30 million budget) is being produced by Samuel Hadida, Bill Vince and Amy Gilliam.
It is largely financed through Hadida's Paris-based Davis Film, and Ledger's involvement on the project was said to be a key to getting the money for the film.
Ledger was one of the biggest names signed to the film – which also includes Christopher Plummer, Lily Cole and Tom Waits. The film's plot follows an ancient traveling show that goes to modern London with a magic mirror with the ability to take its audience into fantastical realms of the imagination.
Plummer had signed for the role of Dr. Parnassus, and Ledger had taken the role of the mysterious outsider who joins the troupe on a quest through parallel worlds to save the doctor's daughter (Cole) from the devil (Waits)