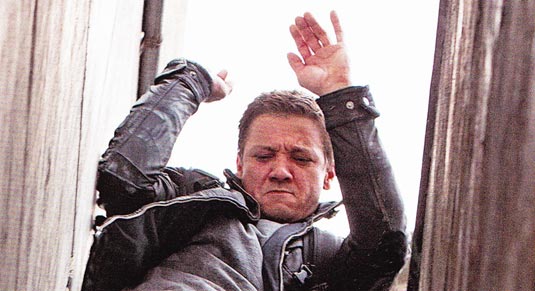 Jeremy Renner in action! That's probably all you'll get from this new image for the upcoming The Bourne Legacy movie.
I'm still not quite sure what's wrong with the official synopsis part for the whole thing (except the fact that it tells us…well, nothing!) but I'm still interested to see where director Tony Gilroy will take us this time.
So, here we are, at the next chapter of the hugely popular espionage franchise that has earned almost $1 billion at the global box office, The Bourne Legacy.
The writer/director expands the Bourne universe created by Robert Ludlum with an original story that introduces us to a new hero – Jeremy Renner whose life-or-death stakes have been triggered by the events of the first three films.
Renner joins fellow series newcomers Rachel Weisz, Edward Norton, Stacy Keach and Oscar Isaac, while franchise veterans Albert Finney, Joan Allen, David Strathairn and Scott Glenn reprise their roles.
The Bourne Legacy is set to open on August 10th, 2012.