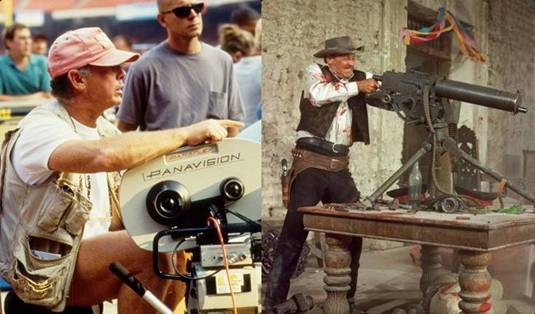 Mere hours after Ridley Scott announced his come back to Blade Runner, the younger brother Tony Scott (Enemy of the State, Man on Fire) has attached to a new project and it's the remake of Sam Peckinpah's 1969 western classic The Wild Bunch.
The notion of remaking The Wild Bunch first came up in January after the departure of executive Jessica Goodman. Now, Jesse Ehrman is the creative executive who will oversee the development of the project for Warners.
The original movie opens during 1913 in the small south Texas town. The Wild Bunch is an aging gang of outlaws that has moved in to pull off armed robbery. But what they don't know is that it's a setup. The stolen bags contain metal washers instead of money. Also, there are dozens of hidden ambush hunters and hired guns. When things turn bloody plenty of innocent civilians ended up getting caught in the crossfire. The gang escapes to Mexico with the bounty hunters in hot pursuit.
Tony Scott's last project was Unstoppable. He's got other projects lined up at the moment, including his Top Gun sequel and Hells Angels. But The Wild Bunch could happen before that because Jeff Bridges is being eyed for the role of Barger (Hells Angels), but due to actor's scheduling demands the film won't get underway until next spring at the earliest. And his Tom Cruise hit remake is still in development phase.
Furthermore, the remake of Potzdamer Platz and an adaptation of the John Grisham novel 'The Associate,' are two films also on his plate.
However, Warner Studio confirmed the Wild Bunch project and the talks with Scott on Thursday. What's your prognosis?
[youtube]http://www.youtube.com/watch?v=nOTkmO23k7I[/youtube]
The Wild Bunch (S. Peckinpah) – Trailer
 Source: Deadline