Movie News
2009 MTV Movie Award Nominations: Slumdog Against Twilight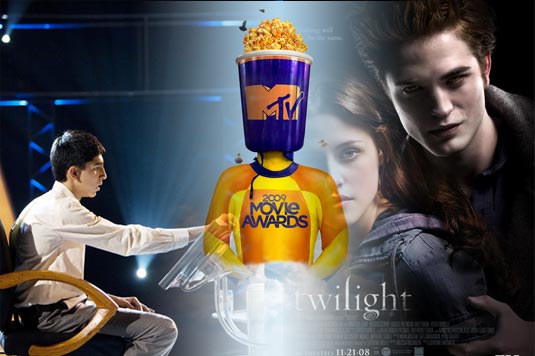 The hit films "Twilight" and "Slumdog Millionaire" get ready to battle it out as MTV: Music Television announces this year's final nominees for the "2009 MTV MOVIE AWARDS." Pitting Hollywood vampires against the Mumbai slums, the movies' rabid fans proved their loyalty as they sent both flicks to the head of the cinematic pack with each film receiving nominations in six award categories including "BEST MOVIE," "BEST KISS" and "BREAKTHROUGH PERFORMANCE MALE." MTV will up the cinematic fun quotient this year by debuting the two new categories "BEST SONG FROM A MOVIE" and "BEST WTF MOMENT." Fans will get the chance to vote on such movie soundtrack hits as "The Climb" from "Hannah Montana: The Movie" as well as pick this year's most jaw-dropping "WTF" movie moment that left audiences speechless such as the naked break-up scene in "Forgetting Sarah Marshall." The 18th annual awards show will be executive produced by Emmy Award(R) winning producer Mark Burnett. Hosted by Andy Samberg, the "2009 MTV MOVIE AWARDS" will be broadcast LIVE from the Gibson Amphitheatre in Universal City, CA on Sunday, May 31st at 9p.m./8p.m. C. Van Toffler, President, MTV Networks Music, Logo and Films Group said:
"This is the first year we've put the nominee decisions in the hands of our audience. From 'Twilight' to 'Slumdog' — this year's ceremony belongs to our most avid movie fans,"
"Our viewers' unending enthusiasm for the movies they love is why we've given them the platform to select the nominees for this year's show."
Mark Burnett, who produces the freewheeling ceremony, said either film has a great chance of winning best picture.
"Twilight" has "certainly touched a part of America and young girls are totally in love with what the movie stands for and (with) romance," Burnett said in an interview. "On the other hand, I have to say, all of my kids loved `Slumdog Millionaire.' There's just something so uplifting about what that movie stands for."
Burnett said the key to a successful movie-awards show is to let awkward moments pan out. Among last year's highlights: Franco and Seth Rogen pulled out a bag of fake marijuana on stage.
"I will tell you right now _ there are three big things" that are part of the show, Burnett said. "I would say personally in my three years of producing the MTV Movie Awards live, the biggest thing that I can think of is going to be happening this year."
The "2009 MTV MOVIE AWARDS" marks the first year in which the final nominees were decided on by the fans. From May 4 – May 27, viewers can visit MovieAwards.MTV.com to vote for their favorite film moments and actors but the category of "BEST MOVIE" will be a fight to the end as voting for favorite film of the year will remain open throughout the LIVE show. MovieAwards.MTV.com is the official site for the "MTV MOVIE AWARDS" where fans can visit to vote and stay to check out show promos starring Andy Samberg and some of today's hottest celebs, get up-to-date info and watch MTV News nominee interviews. During the voting window fans can also head over to facebook.com/mtv, myspace.com/mtv, Flixster and IMDB.com for a special "Movie Awards" social module that will enable them to cast their votes, take polls, watch promo videos, get special news and tweets about the show and special links to "Movie Awards" contests.Nominees for the "2009 MTV MOVIE AWARDS" are: BEST MOVIE (voting stays live throughout the 2009 Movie Awards ceremony)
The Dark Knight Director: Christopher Nolan, Producers: Charles Roven and Emma Thomas (Warner Bros. Pictures)
High School Musical 3: Senior Year Director: Kenny Ortega, Producers: Bill Borden and Barry Rosenbush (Walt Disney Pictures)
Iron Man Director: Jon Favreau, Producers: Avi Arad and Kevin Feige (Paramount Pictures)
Slumdog Millionaire Director: Danny Boyle, Producer: Christian Colson (Fox Searchlight)
Twilight Director: Catherine Hardwicke, Producers: Wyck Godfrey, Greg Mooradian and Mark Morgan (Summit Entertainment)
BEST FEMALE PERFORMANCE
Angelina Jolie – Wanted (Universal Pictures)
Anne Hathaway – Bride Wars (20th Century Fox)
Kate Winslet – The Reader (The Weinstein Company)
Kristen Stewart – Twilight (Summit Entertainment)
Taraji P. Henson – The Curious Case of Benjamin Button (Paramount Pictures)
BEST MALE PERFORMANCE
Christian Bale – The Dark Knight (Warner Bros. Pictures)
Robert Downey Jr. – Iron Man (Paramount Pictures)
Shia LaBeouf – Eagle Eye (DreamWorks SKG/ Paramount Pictures)
Vin Diesel – Fast & Furious (Universal Pictures)
Zac Efron – High School Musical 3: Senior Year (Walt Disney Pictures)
BREAKTHROUGH PERFORMANCE FEMALE
Amanda Seyfried – Mamma Mia! (Universal Pictures)
Ashley Tisdale – High School Musical 3: Senior Year (Walt Disney Pictures)
Freida Pinto – Slumdog Millionaire (Fox Searchlight)
Miley Cyrus – Hannah Montana: The Movie (Walt Disney Pictures)
Vanessa Hudgens – High School Musical 3: Senior Year (Walt Disney Pictures)
Kat Dennings – Nick and Norah's Infinite Playlist (Columbia Pictures)
BREAKTHROUGH PERFORMANCE MALE
Robert Pattinson – Twilight (Summit Entertainment)
Taylor Lautner – Twilight (Summit Entertainment)
Ben Barnes – The Chronicles of Narnia: Prince Caspian (Walt Disney Pictures)
Dev Patel – Slumdog Millionaire (Fox Searchlight)
Bobb'e J. Thompson – Role Models (Universal Pictures)
BEST COMEDIC PERFORMANCE
Amy Poehler – Baby Mama (Universal Pictures)
Anna Faris – The House Bunny (Columbia Pictures)
James Franco – Pineapple Express (Columbia Pictures)
Jim Carrey – Yes Man (Warner Bros. Pictures)
Steve Carell – Get Smart (Warner Bros. Pictures)
BEST VILLAIN
Derek Mears – Friday the 13th (Warner Bros. Pictures)
Dwayne Johnson – Get Smart (Warner Bros. Pictures)
Heath Ledger – The Dark Knight (Warner Bros. Pictures)
Johnathon Schaech – Prom Night (Screen Gems)
Luke Goss – Hellboy II: The Golden Army (Universal Pictures)
BEST FIGHT
Anne Hathaway vs. Kate Hudson – Bride Wars (20th Century Fox)
Christian Bale vs. Heath Ledger – The Dark Knight (Warner Bros. Pictures)
Ron Perlman vs. Luke Goss – Hellboy II: The Golden Army(Universal Pictures)
Robert Pattinson vs. Cam Gigandet – Twilight (Summit Entertainment)
Seth Rogen and James Franco vs. Danny McBride – Pineapple Express (Columbia Pictures)
BEST KISS
Angelina Jolie and James McAvoy – Wanted (Universal Pictures)
Freida Pinto and Dev Patel – Slumdog Millionaire (Fox Searchlight)
James Franco and Sean Penn – Milk (Focus Features)
Kristen Stewart and Robert Pattinson – Twilight (Summit Entertainment)
Paul Rudd and Thomas Lennon – I Love You, Man (Paramount Pictures)
Vanessa Hudgens and Zac Efron – High School Musical 3: Senior Year (Walt Disney Pictures)
BEST WTF MOMENT (New Category)
Amy Poehler – Baby Mama, Peeing In the Sink (Universal Pictures)
Angelina Jolie – Wanted, Curved Bullet Kill (Universal Pictures)
Ayush Mahesh Khedekar – Slumdog Millionaire, Jumping in the Poop Shed (Fox Searchlight)
Ben Stiller – Tropic Thunder, Tasting the Decapitated Head (DreamWorks SKG/ Paramount Pictures)
Jason Segel and Kristen Bell – Forgetting Sarah Marshall, Naked Break-Up (Universal Pictures)
BEST SONG FROM A MOVIE (New Category)
"Jai Ho" – AR Raham, Slumdog Millionaire (Fox Searchlight)
"The Wrestler" – Bruce Springsteen, The Wrestler (Fox Searchlight)
"The Climb" – Miley Cyrus, Hannah Montana: The Movie (Walt Disney Pictures)
"Decode" – Paramore, Twilight (Summit Entertainment)
2009 MTV MOVIE AWARDS: Total Number of Combined Category Nominations Twilight 7 Slumdog Millionaire 6 High School Musical 3: Senior Year 5 The Dark Knight 4 Wanted 3 Baby Mama 2 Bride Wars 2 Get Smart 2 Hannah Montana: The Movie 2 Hellboy 2: The Golden Army 2 Iron Man 2 Pineapple Express 2 The Chronicles of Narnia: Prince Caspian 1 The Curious Case Of Benjamin Button 1 Eagle Eye 1 Fast & Furious 1 Forgetting Sarah Marshall 1 Friday The 13th 1 The House Bunny 1 I Love You, Man 1 Mamma Mia! 1 Milk 1 Nick & Norah's Infinite Playlist 1 Prom Night 1 The Reader 1 Role Models 1 Tropic Thunder 1 The Wrestler 1 Yes Man 1