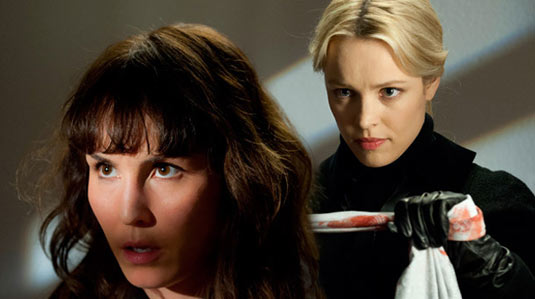 It's time for Venice Film Festival guys, and I hope you're ready for 50 world movie premieres!
Many expected titles will not be ready for the fest such as higly anticipated Paul Thomas Anderson's The Master.
Sofia Coppola's "The Bling Ring," Michael Hoffman's "Gambit," Ang Lee's "Life of Pi," James Gray's "Lowlife," and Nicolas Winding Refn's "Only God Forgives" unfortunately are not heading to Italy this August.
Ok, we are ready to wait as long as it takes for some of these great titles, but let's see which movie will be shown at the 69th Venice Film Festival because the complete lineup has been revealed today.
As we previously announced, Mira Nair's "The Reluctant Fundamentalist" will open the fest while closing film is Jean-Pierre Ameris' "L'homme qui rit.
Terrence Malick's "To The Wonder", Olivier Assayas' "Something In The Air", Takeshi Kitano's "Outrage: Beyond", Brian De Palma's "Passion", Brillante Mendoza's "Thy Womb" and Harmony Korine's "Spring Breakers" are among the competition titles.
Now you can check out the complete lineup:
Opening Film:
"The Reluctant Fundamentalist," Mira Nair (U.S., Qatar)
Competition:
"To the Wonder," Terrence Malick (U.S.)
"Something in the Air," Olivier Assayas (France)
"Outrage: Beyond," Takeshi Kitano (Japan)
"Fill The Void," Rama Burshtein (Israel)
"Pieta," Kim Ki-duk (South Korea)
"Dormant Beauty," Marco Bellocchio (Italy)
"E' stato il figlio," Daniele Cipri (Italy)
"At Any Price," Ramin Bahrani (U.S., U.K.)
"La cinquieme saison," Peter Brosens, Jessica Woodworth (Belgium, Netherlands, France)
"Un giorno speciale, " Francesca Comencini (Italy)
"Passion," Brian De Palma (France, Germany)
"Superstar, " Xavier Giannoli (France, Belgium)
"Spring Breakers," Harmony Korine (U.S.)
"Thy Womb," Brillante Mendoza (Philippines)
"Linhas de Wellington," Valeria Sarmiento (Portugal, France)
"Paradise: Faith," Ulrich Seidl (Austria, France, Germany)
"Betrayal," Kirill Serebrennikov (Russia)
Out of Competition:
"L'homme qui rit," Jean-Pierre Ameris (France)
"Love Is All You Need," Susanne Bier (Denmark/Sweden)
"Cherchez Hortense," Pascal Bonitzer (France)
"Sur un fil," Simon Brook (France/Italy)
"Enzo Avitabile Music Life," Jonathan Demme (documentary) (Italy/U.S.)
"Tai Chi 0," Stephen Fung (China)
"Lullaby to My Father," Amos Gitai (Israel/France)
"Shokuzai" (Penance), Kiyoshi Kurosawa (Japan)
"Bad 25," Spike Lee (documentary) (U.S.)
"The Reluctant Fundamentalist," Mira Nair (India/Pakistan/U.S.)
"O Gebo e a Sombra," Manoel de Oliveira (Portugal/France)
"The Company You Keep," Robert Redford (U.S.)
"Shark (Bait 3D)," Kimble Rendall (China)
"Disconnect," Henry-Alex Rubin (U.S.)
"The Iceman," Ariel Vromen (U.S.)
Out of Competition (Special Events):
"Anton tut ryadom" (Anton's Right Here), Lyubov Arkus (documentary) (Russia)
"Ya Man Aach" (It Was Better Tomorrow), Hinde Boujemaa (documentary) (Italy)
"Sfiorando il muro," Silvia Giralucci & Luca Ricciardi (documentary) (Italy)
"Carmel," Amos Gitai (Israel/France/Italy)
"El impenetrable," Daniele Incalcaterra & Fausta Quattrini (documentary) (Argentina/France)
"Witness: Libya," Michael Mann (documentary) (U.S.)
"Medici con l'Africa," Carlo Mazzacurati (documentary) (Italy)
"La nave dolce," Daniele Vicari (documentary) (Italy/Albania)
Horizons:
"Wadjda," Haifaa Al Mansour (Germany)
"Khanéh Pedari" (The Paternal House), Kianoosh Ayari (Iran)
"Ja Tozhe Hochu" (I Also Want It), Alexey Balabanov (Russia)
"Gli equilibristi," Ivano De Matteo (Italy)
"L'intervallo," Leonardo Di Costanzo (Italy/Switzerland/Germany)
"El Sheita Elli Fat" (Winter of Discontent), Ibrahim El Batout (Egypt)
"Tango Libre," Frédéric Fonteyne (Belgium/France/Luxembourg)
"Menatek Ha-Maim" (The Cutoff Man), Idan Hubel (Israel)
"Gaosu tamen, wo cheng baihe qu le" (Fly with the Crane), Li Ruijun (China)
"Kapringen" (A Hijacking), Tobias Lindholm (Denmark)
"Leones," Jazmin Lopez (Argentina/France/Netherlands)
"Bellas Mariposas," Salvatore Mereu (Italy)
"Low Tide," Roberto Minervini (U.S./Italy/Belgium)
"Boxing Day," Bernard Rose (Great Britain/U.S.)
"Yema," Djamila Sahraoui (Algeria/France)
"Araf" (Araf – Somewhere in Between), Yesim Ustaoglu (Turkey/France/Germany)
"Sennen no Yuraku" (The Millennial Rapture), Koji Wakamatsu (Japan)
"San Zi Mei" (Three Sisters), Wang Bing (documentary) (France/Hong Kong-China)
Horizons Short Films:
"Las manos limpias," Carlos Armella (Mexico)
"Bansulli" (The Flute), Min Bham (Nepal)
"O Afinador," Fernando Camargo & Matheus Parizi (Brazil)
"Resistente," Renate Costa & Salla Sorri (Denmark/Finland/Paraguay)
"La sala," Alessio Giannone (Italy)
"Marla," Nick King (Australia)
"Miracle Boy," Jake Mahaffy (U.S.)
"Living Still Life," Bertrand Mandico (France/Belgium/Germany)
"Frank-Étienne vers la béatitude," Constance Meyer (France)
"I'm the One," Paola Morabito (Australia)
"Luisa no está en casa," Celia Rico Clavellino (Spain)
"Cargo," Carlo Sironi (Italy)
Cho-De" (Invitation), Yoo Min-young (South Korea)
"Titloi Telous" (Out of Frame), Yorgos Zois (Greece)
"Diamond Sutra," Tsai Ming-liang (Chinese Taipei)  (Horizons Closing Film)
Closing Film:
"L'homme qui rit," Jean-Pierre Ameris (France)