Movie News
A Slew of A-listed Thesps Added to Meta-comedy He Loves Me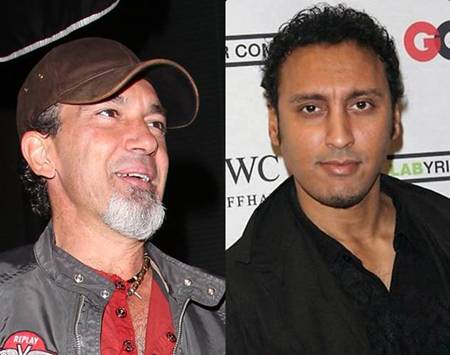 Good news! Charlie Kaufman-esque rich, archly funny meta-comedy He Loves Me has begun filming in Los Angeles. Bona Fide Productions and Fox Searchlight Pictures officially announced a slew of A-listed thesps to star in the new dramatic comedy opposite leads Paul Dano and Zoey Kazan – Antonio Banderas, Steve Coogan, Elliot Gould, Chris Messina, Deborah Ann Woll and previously attached Annette Bening. In addition, The Daily Show veteran Aasif Mandvi is in talks to join the cast as well.
Helmed by Jonathan Dayton and Valerie Faris (Little Miss Sunshine), the film follows a writer (Paul Dano) who, in an attempt to overcome writer's block, scribes a female character he thinks will love him. As the story goes, Dano actually births the character into existence. His real life girlfriend, Zoe Kazan, will embody the character brought to life. Kazan also penned the script.
Let's start with the end – Mandvi will play Calvin's agent, Woll (the HBO vampire series), will play Calvin's ex-girlfriend, Coogan will play Calvin's snobbish author rival, Gould will play Calvin's psychiatrist, Messina will play Calvin's older brother, and Banderas will play the hippie boyfriend of Calvin's mom (Annette Bening).
In fact, here is the full announcement:
Bona Fide Productions and Fox Searchlight Pictures announced today that principal photography for the romantic comedy HE LOVES ME has begun in Los Angeles. The film stars Paul Dano, Zoe Kazan, three-time Golden Globe® nominee Antonio Banderas, four-time Oscar® nominee Annette Bening, three-time BAFTA® winner Steve Coogan, Oscar® nominee Elliot Gould, Chris Messina and Deborah Ann Woll. Jonathan Dayton and Valerie Faris, whose first big screen feature LITTLE MISS SUNSHINE was nominated for four Academy Awards®, including Best Picture as well as winning the Independent Spirit Award for best feature, direct from an original screenplay by Zoe Kazan. Albert Berger and Ron Yerxa (LITTLE MISS SUNSHINE, COLD MOUNTAIN, ELECTION) are producing with Robert Graf (NO COUNTRY FOR OLD MEN) executive producing. HE LOVES ME will be released worldwide by Fox Searchlight Pictures.

In HE LOVES ME, Calvin (Dano) is a young novelist who achieved phenomenal success early in his career but is now struggling with his writing – as well as his romantic life. Finally, he makes a breakthrough and creates a character named Ruby who inspires him. When Calvin finds Ruby (Kazan), in the flesh, sitting on his couch about a week later, he is completely flabbergasted that his words have turned into a living, breathing person.

Claudia Lewis, President of Production and David Greenbaum, Senior Vice President of Production are overseeing the project.

Paul Dano, acclaimed as one of the top actors of his generation, co-stars this summer with Harrison Ford, Daniel Craig, Sam Rockwell and Olivia Wilde in the sci-fi western COWBOYS & ALIENS, directed by Jon Favreau. In 2007, Dano garnered a BAFTA nomination for Best Supporting Actor opposite Daniel Day-Lewis in Oscar nominated THERE WILL BE BLOOD. In 2006, Dano starred with Alan Arkin, Abigail Breslin, Steve Carell, Toni Collette and Greg Kinnear in the Oscar nominated LITTLE MISS SUNSHINE, directed by Jonathan Dayton and Valerie Faris. His performance in that film earned him the Broadcast Film Critics Association Award for Best Young Actor and an Independent Spirit Award nomination for Best Supporting Actor. The film's ensemble earned Screen Actors Guild and Broadcast Film Critics Association Awards.

HE LOVES ME is Zoe Kazan's first screenplay. She made her Broadway debut, starring alongside S. Epatha Merkerson in a revival of Come Back, Little Sheba. Following this role, Zoe was named the recipient of the 2008 Derwent Award, honoring "the most promising female and male performers on the New York metropolitan scene." She became a professional playwright who's family drama, Absalom, was presented at the Humana Festival of New American Plays. Kazan continued to find acting success on Broadway, but eventually landed roles for the big screen, appearing in films like IN THE VALLEY OF ELAH, THE SAVAGES, REVOLUTIONARY ROAD, TAKING WOODSTOCK, ME AND ORSON WELLES and MEEK'S CUTOFF. In the spring of 2010, Zoe returned Broadway to star A Behanding In Spokane opposite Christopher Walken, Anthony Mackie and Sam Rockwell, as well as Angels In America. Kazan graduated from Yale University in 2005.

Annette Bening plays Calvin's mother, Gertrude, an artist who's curious about Calvin's new girlfriend, but worried about how much he hates her second husband, an eccentric hippie named Mort played by Antonio Banderas. Bening is a four-time Oscar® nominee for her roles in THE GRIFTERS, AMERICAN BEAUTY, BEING JULIA, and THE KIDS ARE ALL RIGHT, winning Golden Globe® awards for the latter two films. Banderas is an international star and renowned film actor who began his career with a series of films by director Pedro Almodóvar and then appeared in high-profile Hollywood films including ASSASSINS, EVITA, INTERVIEW WITH THE VAMPIRE: THE VAMPIRE CHRONICLES, PHILADELPHIA, DESPERADO, THE MASK OF ZORRO, SPY KIDS and the SHREK sequels.

Elliott Gould plays Dr. Rosenthal, Calvin's Psychiatrist. Gould began his acting career during the 1960s, and has remained prolific ever since. Some of his most notable films include M*A*S*H and BOB & CAROL & TED & ALICE, for which he received an Oscar nomination. In recent years, he has starred as Jack Geller on "Friends" and as Reuben Tishkoff in OCEAN'S ELEVEN, OCEAN'S TWELVE and OCEAN'S THIRTEEN.

Chris Messina portrays Harry, Calvin's older brother and Steve Coogan is Langdon Tharp, successful novelist and self proclaimed esteemed literary God. Messina started his career as a well-received off-Broadway actor. He has appeared in episodes of the television series "Law & Order," "Third Watch" and "Medium." His film credits include ROUNDERS, THE SIEGE, YOU'VE GOT MAIL and TOWELHEAD. Coogan is a three-time BAFTA award-winning English comedian, actor, writer and producer. Coogan is best known for his roles in films such as NIGHT AT THE MUSEUM, TROPIC THUNDER, HAMLET 2, and THE OTHER GUYS.

Lila, Calvin's ex-girlfriend, who makes surprise reappearance in his life, is played by Deborah Ann Woll, best known for her role as Jessica Hamby on HBO's "True Blood."

Jonathan Dayton and Valerie Faris made their feature film directorial debut with the Oscar nominated LITTLE MISS SUNSHINE in 2006. The married team began their careers by directing and pioneering MTV show, "The Cutting Edge." They continued to work at the leading edge of music television, directing award-winning videos and documentaries for artists including REM, The Red Hot Chili Peppers, Jane's Addiction, The Smashing Pumpkins, Macy Gray, Oasis, Weezer and The Ramones. Their music productions ultimately earned them two Grammy Awards, nine MTV Music Video Awards and a Billboard Music "Director of the Year" Award. In addition, Jonathan and Valerie have worked extensively in television, including directing episodes of the groundbreaking sketch comedy series "Mr. Show with Bob and David" for HBO. They also produced two feature films: the documentary THE DECLINE OF WESTERN CIVILIZATION PART II: THE METAL YEARS for New Line Cinema and Jane's Addiction GIFT for Warner Bros Music.

Albert Berger and Ron Yerxa are partnered in Bona Fide Productions. Their producing credits include KING OF THE HILL, ELECTION, THE WOOD, COLD MOUNTAIN, LITTLE MISS SUNSHINE, LITTLE CHILDREN, and THE SWITCH. Upcoming films include NEBRASKA to be directed by Alexander Payne.

Fox Searchlight Pictures is a specialty film company that both finances and acquires motion pictures. It has its own marketing and distribution operations, and its films are distributed internationally by Twentieth Century Fox. Fox Searchlight Pictures is a unit of Fox Filmed Entertainment, a unit of Fox Entertainment Group.
Source: 24 Frames