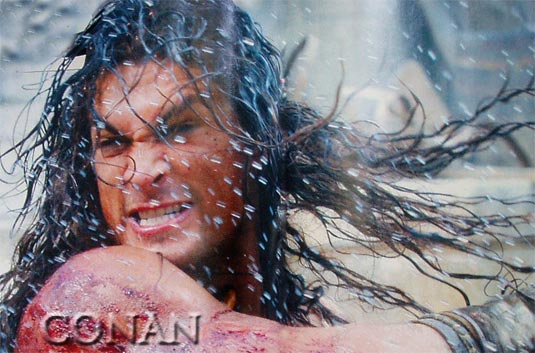 Conan Movie Blog
has posted a great new image of
Jason Momoa
as
Conan.
The name of the movie appears to be staying as
Conan
. A second telling of the character by
Robert E. Howard
,  is the story of a Cimmerian barbarian named Conan (Momoa) and his adventures across the continent of Hyboria on a quest to avenge the murder of his father and the slaughter of his village at the hands of Khalar Singh (Avatar's Stephen Lang). Joining Momoa and Lang in the film is
Ron Perlman
(Hellboy) as Conan's father,
Rose McGowan
(Grindhouse) as Marique,
Rachel Nichols
(GI Joe) as Tamara, and
Bob Sapp
as Ukafa. The film is directed by
Marcus Nispel.
Conan
is set for release in the summer of 2011.
Conan Photo, Jason Momoa