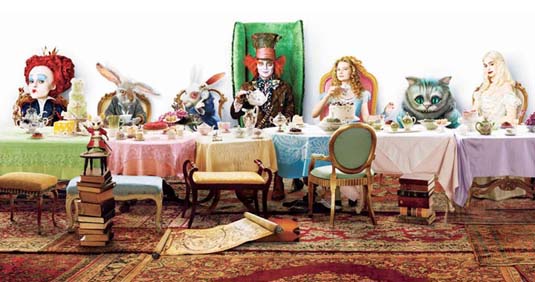 Take a look at the Super Bowl XLIV TV spot for
Alice In Wonderland
which hits theaters next month on March 5, 2010. The film directed by
Tim Burton
from the script by
Linda Woolverton
, stars
Johnny Depp
as Mad Hatter,
Mia Wasikowska
as Alice,
Helena Bonham Carter
as the Red Queen,
Matt Lucas
as Tweedledee and Tweedledum.
Michael Sheen
plays the White Rabbit,
Alan Rickman
– Caterpillar,
Christopher Lee
– Jabberwock,
Stephen Fry
– Cheshire Cat and
Crispin Glover
stars as The Knave of Hearts. Burton's
Alice In Wonderland
centers on the now-19-year-old Alice. Attending a party at a Victorian estate only to find she is about to be proposed to in front of hundreds of snooty society types, she runs after a white rabbit into a hole and ends up transferred once again to Wonderland. Still, she has no recollection of this place she visited 10 years before.