Movie News
Alison Brie to Join Five Year Engagement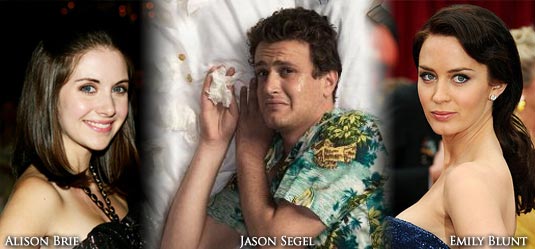 Alison Brie
is joining
The Five-Year Engagement
for Universal, the upcoming relationship comedy starring
Jason Segel
and
Emily Blunt
. The rom-com we heard it last November hasn't been much movement on
Judd Apatow
's "Five Year Engagement" lately. We learned that Jason Segel and Emily Blunt would be playing a duo whose five years relationship is chronicled in the comedy, directed by
Nicholas Stoller
(
Forgetting Sarah Marshall
) but that's old news already. What's new is that Community's Alison Brie is on board, set to play Blunt's sister in the flick which should bring the same hilarity and allure of Stoller and Segel's last collab. Brie told
Variety
that she's a major fan of Stoller and Segel's creation in "Forgetting Sarah Marshall," which Apatow and Shauna Robertson produced.
It really is one of my favorite films ever. I've watched it at least 20 times."
In the film, Brie will be putting on a British accent for the first time, but she's not worried about this point. The actress says,
I've worked on accents when I was studying at Cal Arts and in Scotland and enjoy that kind of transformation."
Brie said she's been informed that production will start around the end of April. She's been one of the town's most active actresses, playing Annie Edison in "Community" on NBC and Trudy Campbell in AMC's "Mad Men." Geeks of "Community" know that Brie kills at comedy, but her work on 'Mad Men" shows that she's likewise skilled at more dramatic fare. She'll next be seen in theaters in
Wes Craven
's sequel, playing a lead role in the
Scream 4
, out April 15. Does this sound worthy of a look?
Alison Brie