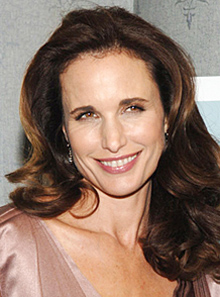 So,
we already know
that new
Footloose
, the remake of the 1984 hit is coming, and here we are for a little interesting casting update! Golden Globe Award nominee
Andie MacDowell
has joined the cast that already includes
Kenny Wormald
as Ren McCormack,
Julianne Hough
as Ariel Moore,
Miles Teller
as Willard and
Dennis Quaid
as Rev. Shaw Moore MacDowell will be playing the role of Vi Moore, the wife of Dennis Quaid's Reverend Shaw Moore, who despises the music the kids of his sleepy Southern town listen to, and who tries to ban rock and roll music – characters originally played by
John Lithgow
and
Dianne Wiest
in the original movie. Familiar couple, because you'll remember that MacDowell and Quaid previously played husband and wife in the 2001 film
Dinner with Friends
. Let us just remind you that Footloose tells the story of a young man who moves to conservative, religious town where his love for dancing is viewed as a threat by the locals. The original movie with
Kevin Bacon
in the leading role was nominated for two Oscars and has developed a cult fan base, making it one of the best loved films of the 80s.
Craig Brewer
is in charge for directing a remake (the project had initially been set up for High School Musical director Kenny Ortega), the script is being written also by Brewer, while
Dean Pitchford
, the writer of the original film, will be producing. Brewer sought to return the film to its original drama, wrapped up in teen angst, parental control, religious repression, and small-town malaise.
Footloose
will begin production this fall and will open in theatres on April 1, 2011.