Movie News
Angelina Jolie As the Evil Queen in Disney's Maleficent?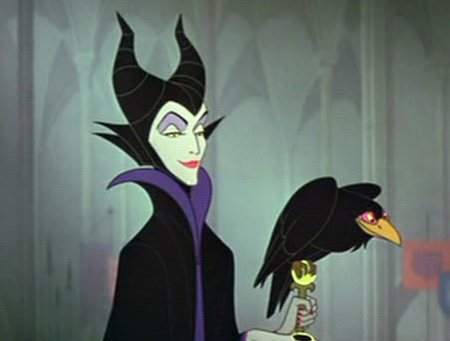 Angelina Jolie
as Evil Queen? You must admit that this could be more than fun. Jolie, is reportedly interested in playing this role: "The actress has been circling
Maleficent
since last spring, the postmodern take on
Sleeping Beauty
, and is still keen on to take the role of the titular villain,"
LA Times
says. Both
Tim Burton
and
Angelina Jolie
had last spring been rumored to join the project. But we're more then sure you all remember a tall green-skinned woman with horns who can morph into several forms, including a terrifying black and purple dragon. I don't know about you but I can imagine
Jolie
in the role. This could be a refreshing change after her action roles. This "lovely" lady appeared in many Disney books and TV shows (also a very popular Halloween costume), and this is without a doubt the most serious character in Disney's villain stable, featuring a darkness not found in other Disney characters. She is not at all comical or goofy like some of the other Disney villains, although she does at times display something of a dark sense of humor. We already know Disney and screenwriter
Linda Woolverton
are teaming to bring to the big screen
Maleficent
, a live-action take on the evil queen in the 1959 animated classic
Sleeping Beauty
. So we'll just have to wait and see what kind of story will Woolverton write this time, since the whole thing should definetely be the look through the "evil" eyes. We can not blame them, since they already have a huge success with
Alice in Wonderland
, and looks like this project could again reunite Woolverton and
Tim Burton
, although…
that's still a rumor!
Anyway, nothing's sure at this moment. We already know that Burton is involved with projects like
Frankenweenie
, and if you remember, we also wrote about his interest in
The Addams Family
. There has been no movie lined-up for
Angelina Jolie
after
The Tourist
. But you must admit that
Maleficent
is very interesting, and as we heard, potential "next-best-thing", so maybe no deal has been made with Burton, but the hiring of Woolverton is ceartinly the first concrete step forward in its development. So as you see, this could be very fresh project, since we never had a chance to see the story solely about the evil queen, and you must admit that she's definetely one of the kind out there.
Tim Burton
is surely familiar with her world, so we really hope to see it on the big screen soon!