Movie News
Anthony Hopkins, Keira Knightley and Gwyneth Paltrow star in $35m 'King Lear'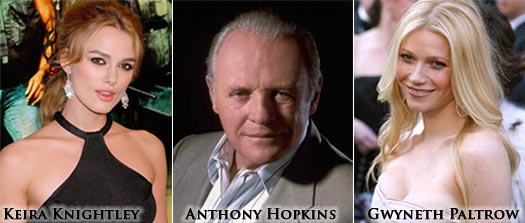 Anthony Hopkins
,
Keira Knightley
and
Gwyneth Paltrow
will headline a $35m adaptation of
Shakespeare
's epic tragedy
King Lear
.
Joshua Michael Stern
, who made the upcoming
Kevin Costner
political comedy
Swing Vote
, which screens in the market here, adapted the screenplay and will direct and produce. It is understood Paltrow will play Regan, one of Lear's two treacherous eldest daughters who fight for the lion's share of their father's kingdom when he announces his abdication. Knightley will play Cordelia, Lear's youngest and most loyal daughter who is disowned by the king after she refuses to take part in a contest to demonstrate who loves their father the most. Cordelia flees and marries the King of France before returning with an army to wage war against her sisters, an act that triggers the cataclysmic final sequence of events. The producers expect to announce further casting, including the eldest daughter Goneril as well as various scheming members of the aristocracy.
Ruby Films
chief
Alison Owen
is in talks to produce and her colleague
Paul Trijbits
is in talk to serve as executive producer. Stern's vision for the updated, live-action project is described as being epic in the vein of 300, featuring epic battle sequences and high passion.