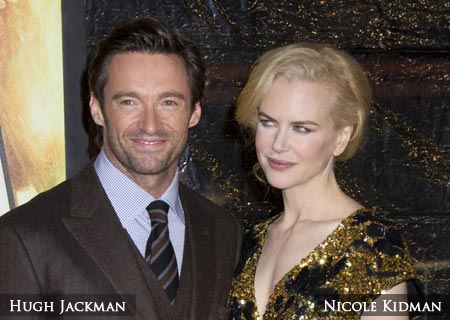 Hugh Jackman and Nicole Kidman hit the red carpet in New York for the premiere of their epic movie "Australia" on Monday, November 24.
Kidman, 41, looked glamourous in a sequinned gold and black dress when she arrived with her husband, country singer Keith Urban, also 41. But she was booed by waiting crowds when she shunned interviews and instead rushed inside the Ziegfeld Theatre.
Joining Jackman and Kidman on the red carpet were director Baz Luhrmann and co-producer Catherine Martin. Aside from them, other celebrity guests, like Kelsey Grammer, Olivia Newton-John, Lauren Bacall, Alicia Witt, Deborra-Lee Furness, Helena Christensen, and many others, have also been spotted attending the special event.
Australia follows the story of Lady Sarah Ashley, played by Nicole Kidman, who inherits a remote cattle station called Faraway Downs in the mid-1930s, before World War II.
When cattle barons plot to take her land, she reluctantly joins forces with a rough-hewn drover, played by Jackman, to drive thousands of cattle across the country, only to face the bombing of Darwin by Japanese forces.
The movie is scheduled to open in U.S. theaters on November 26.
Australia Premiere Photos