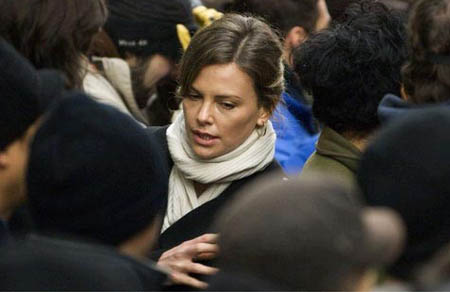 Based on one of the most incendiary political uprisings in a generation, "Battle in Seattle" takes an in-depth look at the five days that rocked the world in 1999 as tens of thousands of demonstrators took to the streets in protest of the World Trade Organization (WTO).
What began as a peaceful protest intended to stop the WTO talks quickly escalated into a full-scale riot and eventual State of Emergency that squared off peaceful and unarmed protestors against the Seattle Police Department and the National Guard.
Stuart Townsend's "Battle in Seattle" domestic trailer has been unveiled. The film's impressive cast is comprised of Woody Harrelson, Charlize Theron, Andre Benjamin, Michelle Rodriguez, Ray Liotta, Joshua Jackson and Channing Tatum.
"Battle in Seattle" will hit US theaters on September 2008.
[flv]http://pdl.stream.aol.com/aol/us/moviefone/movies/2008/battleinseattlethe_028002/battleinseattlethe_trlr_01_700_dl.flv[/flv]