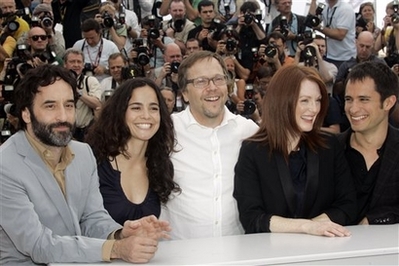 The Cannes film festival opens tonight with 'Blindness', an apocalyptic nightmare adapted from the 1995 novel by Nobel laureate José Saramago and directed by Fernando Meirelles. The film is superbly photographed by Cesar Charlone.
In an unnamed city of the near future, a terrifying epidemic of "white blindness" – the sufferers seeing only milky white light – spreads like wildfire. The infection's ground zero is a Japanese businessman (Yusuke Iseya) who staggers sightlessly from his luxury automobile which is promptly stolen by an opportunist thief who also goes blind.
The man finds himself in the offices of an eye doctor (Mark Ruffalo) who is also treating a high-class prostitute (Alice Braga) in the business of servicing clients in a hotel, with the help of a discreet barman (Gael García Bernal). All go blind and from this nexus, the disease spreads.
The city of the blind opens its inhabitants' eyes to their former civilisation's brutality and indifference. What is fascinating to see is how the blind prisoners are admitted to the quarantine camp in the order in which they made fleeting contact in the preceding narrative: a pharmacy clerk, a cop, a hotel maid, all connected via the fleeting and heedless contact of the modern, uncaring city, and now joined in a chain of terrible significance.
As the shuffling inmates become used to their blindness, they experience a crisis, being and being perceived: they see no one and no one sees them. Do they exist? Did they exist before? Other inmates, however, see a new equality or democracy in blindness: young and old, ugly and beautiful, all are levelled.
And all the time Julianne Moore, exiled from the community of suffering, must endure a vision of horror from which everyone else is spared.
'Blindness' starring Julianne Moore, Mark Ruffalo, Danny Glover, Gael Garcia Bernal, Yusuke Iseya, Yoshino Kimura and Alice Braga.
More photos at FF Cannes Film Festival gallery HERE