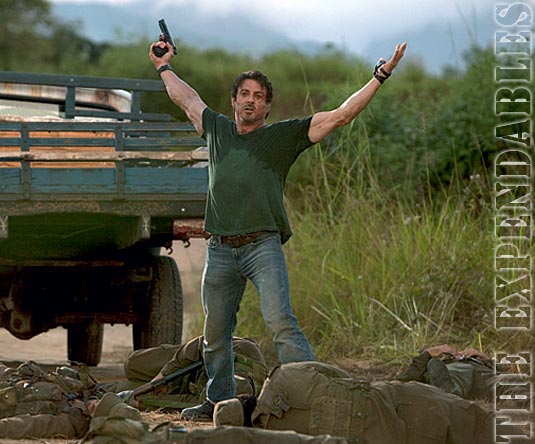 Empire has debuted a brand new image from upcoming action film "The Expendables", starring and directed by Sylvester Stallone who explained where he got the title…
"It's from Rambo 2. The girl I'm falling in love with says, "Why do you do what you do?" I say, "I'm expendable." She says, "What does that mean?" I say, "It's like someone invites you to a party and you don't show up. It doesn't really matter." And these men, they live a life that… They're expendable. If they're gone, the world will go on. No one will miss them.
When asked about his aim for the film, Stallone said:
"What I wanted to do was just try to do something that is a little different. Today, technically, we're incredibly gifted and versatile with CGI, and I wanted to do a film that was more about men, doing things that we did back in the 80s and 90s that were a little more mano a mano – actual, physical stunts. It's also a story that isn't super-gigantic; it's almost a believable story. And the thing was to find certain personalities that never would have worked together normally and put them all together. It's like the dream team. It just hasn't been done. I guess it's kinda like The Dirty Dozen"
The Expendables, Sylvester Stallone "The Expendables" is about a team of mercenaries led by Barney Ross (Stallone). The team consists of Lee Christmas (Jason Statham), Bao (Jet Li), Gunnar Jensen (Dolph Lundgren), and Emanuel (Mickey Rourke), who head to South America on a mission to overthrow a dictator. The movie also stars Arnold Schwarzenegger, Bruce Villis, Randy Couture, Eric Roberts, Danny Trejo, Charisma Carpenter, Steve Austin, Curtis Jackson, Brittany Murphy and David Zayas. "The Expendables" opens in theates August 20, 2010.