Movie Photos
First Look: CAPTAIN AMERICA: THE WINTER SOLDIER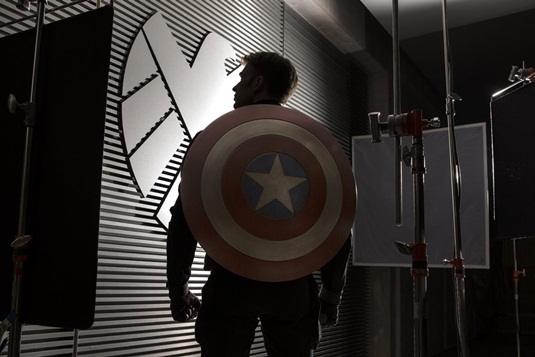 Marvel Studios has announced today that production has officially started on
Captain America: The Winter Soldier
and provided a first image of Captain America (
Chris Evans
) in shadow with his iconic shield behind him. The upcoming sequel, set to shoot in Los Angeles, Cleveland and Washington, D.C., will also feature
Scarlett Johansson
as Natasha Romanoff/Black Widow,
Sebastian Stan
as James 'Bucky' Barnes/Winter Soldier,
Samuel L. Jackson
as Nick Fury,
Hayley Atwell
as Peggy Carter,
Toby Jones
as Arnim Zola,
Cobie Smulders
as Agent Maria Hill and
Maximiliano Hernandez
as Agent Jasper Sitwell.
Anthony Mackie
as Sam Wilson/Falcon,
Frank Grillo
as Brock Rumlow,
Georges St-Pierre
as Georges Batroc and
Emily VanCamp
as Agent 13 are joining the Marvel Cinematic Universe for the first time. In addition,
Robert Redford
has joined the cast as Agent Alexander Pierce, a senior leader within the S.H.I.E.L.D. organization.
Captain America: The Winter Soldier
will pick up where
The Avengers
left off, following Evans' Steve Rogers as he struggles to embrace his role in the modern world and teaming up with Natasha Romanoff to battle a powerful yet shadowy enemy in present-day Washington. The sequel, set for release on April 4th, 2014, is being directed by brothers
Anthony
and
Joseph Russo
from a screenplay by
Christopher Markus
. Click to view bigger version.