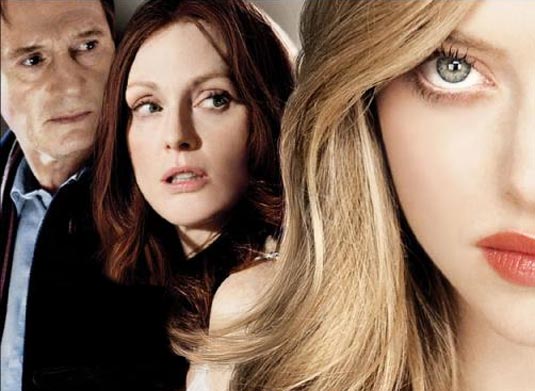 Sony Pictures Classic has unveiled a trailer for the upcoming Chloe drama thriller, starring Julianne Moore, Amanda Seyfried, and Liam Neeson.
The drama thriller is a remake of the French 2003 "Nathalie…" both written and directed by Anne Fontaine starring Gerard Depardieu, Fanny Ardant, Emmanuelle Beart.
Catherine (Julianne Moore) and David (Liam Neeson), she a doctor, he a professor, are at first glance the perfect couple. Happily married with a talented teenage son, they appear to have an idyllic life. But when David misses a flight and his surprise birthday party, Catherine's long simmering suspicions rise to the surface. Suspecting infidelity, she decides to hire an escort (Amanda Seyfried) to seduce her husband and test his loyalty. Catherine finds herself 'directing' Chloe's encounters with David, and Chloe's end of the bargain is to report back, the descriptions becoming increasingly graphic as the meetings multiply.
Chloe directed by Atom Egoyan (Adoration, Where the Truth Lies), premiered at the 2009 Toronto International Film Festival is scheduled to be released on March 19, 2010.