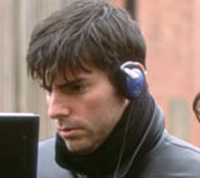 "
Twilight
" has generated domestic grosses of more than $150 million and another $50 million overseas. The vampire thriller's a ready-made franchise for Summit with the four books in
Stephenie Meyer
's series, already selling more than 17 million copies worldwide. It's official now:
Chris Weitz
will direct Twilight" sequel, "
New Moon
" from the script by
Melissa Rosenberg
("Twilight" screenwriter).
Summit Entertainment
made the announcement Saturday, less than a week after it parted ways with "Twilight" director
Catherine Hardwicke
. Here's the studio's official synopsis for the sequel: "In 'New Moon,' Bella Swan (
Kristen Stewart
) is devastated by the abrupt departure of her vampire love, Edward Cullen (
Robert Pattinson
) but her spirit is rekindled by her growing friendship with the irresistible Jacob Black. Suddenly she finds herself drawn into the world of the werewolves, ancestral enemies of the vampires, and finds her loyalties tested. Production on 'New Moon' is scheduled to begin in the coming months and the studio is planning to release the film towards the end of 2009 or early 2010." Robert Pattinson and Kristen Stewart play the leads in the film (of course). "I am honored to have been entrusted with shepherding 'New Moon' from the page to the screen. The extraordinary world that Stephenie has created has millions of fans, and it will be my duty to protect on their behalf the characters, themes and story they love. This is not a task to be taken lightly, and I will put every effort into realizing a beautiful film to stand alongside a beautiful book," Chris Weitz said. He's had tremendous success working with tweens and teens: "About A Boy" as director and writer, "American Pie" as producer and uncredited director. But Chris Weitz also did "The Golden Compass" (as writer and director), but Summit Entertainment liked the look of that even if it didn't heat up the domestic box office (but did better overseas). "We love Stephenie Meyer's fantastic 'Twilight' series," promised
Erik Feig
, Summit's President of Production. "Thinking long and hard about how to turn 'New Moon' into the amazing movie we know it will be, and working with Stephenie Meyer to find the right candidate, we are thrilled to announce Chris Weitz as director of the film. Chris very much understands the world of 'New Moon,' and has the skill set required to bring the book to glorious life as a movie. We think he will be an excellent steward of Stephenie Meyer's vision." It's no secret that Meyer and Hardwicke became the best of friends during the process of making "Twilight," and it remains to be seen whether she will be able to create the same dynamic with the new director.