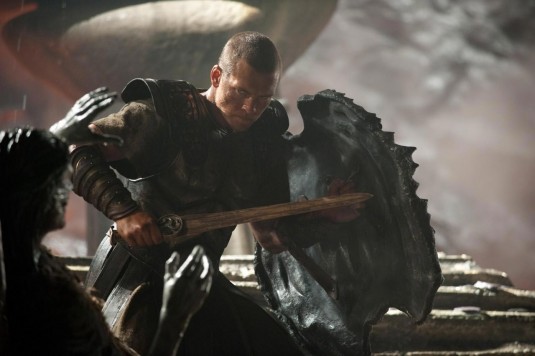 Watch never-before-seen videos from the set of the upcoming "Clash of the Titans" which is remake of 1981 original directed by
Desmond Davis
. The remake is directed by
Louis Letettier
from a screenplay by
Lawrence Kasdan.
"Clash of the Titans"
stars
Sam Worthington
as Perseus,
Gemma Arterton
as Perseus' love interest Io,
Ralph Fiennes
as Hades,
Liam Neeson
as  Zeus – Hades' brother and father of Perseus,
Danny Huston
as Poseidon,
Mads Mikkelsen
as Draco,
Alexa Davalos
as Andromeda,
Jason Flemyng, Izabella Miko, Nicholas Hoult
and
Pete Postlethwaite
. "Even though we shot on locations that are big and epic themselves, you put that together with cutting-edge CG, it should give an exciting ride," Worthington told
MTV News
. Gemma Arterton described the role as "the coolest part". "Io's not in the original film. Perseus falls in love with her… It's a really great part," she told. Arterton also said that in contrast to the 1981 original –
Harry Hamlin
played Perseus – this one is "much more about Perseus' mission: "And how he deals with being the son of Zeus, and things like that. So it feels a little more about him, and about the issues around that…The script is very different" "It sounds like a reasonable, good idea to remake a film where it's the same kind of story, but you actually have big increases in the capacity of what computers can do today," Mads Mikkelsen said.
Synopsis
: In the movie, the ultimate struggle for power pits men against kings and kings against gods. But the war between the gods themselves could destroy the world. Born of a god but raised as a man, Perseus (Worthington) is helpless to save his family from Hades (Fiennes), vengeful god of the underworld. With nothing left to lose, Perseus volunteers to lead a dangerous mission to defeat Hades before he can seize power from Zeus (Neeson) and unleash hell on earth.
More about the movie you can find at "
Clash of the Titans
" FilmoFilia Movie Page