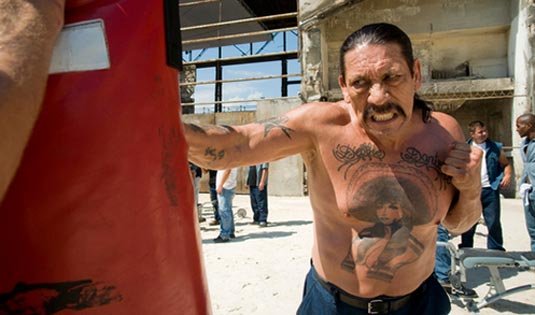 Universal Picture Home Entertainment has revealed a full new trailer for
Death Race 2
, the prequel to
Paul W.S. Anderson
's 2008 adrenaline-fueled remake of the cult classic
Death Race 2000
(1975).
Synopsis:
Death Race 2 takes place in the very near future, as the United States economy begins to decline and violent crime starts to spiral out of control. To contain the growing criminal population, a vast network of for-profit, private prisons springs up, creating a lawless subculture ruled by gangs, cold-blooded killers and sociopaths. The worst of these prisons is Terminal Island, where inmates fight each other in a highly rated televised death match, where there are no rules, and the winner is the one who survives the gladiator-style, no-holds-barred competition. Convicted cop-killer Carl Lucas (Luke Goss) arrives on the Island to serve his life sentence just as ruthlessly ambitious television personality September Jones evolves the death match into the ultimate reality show – Death Race. A brutal prison yard demolition derby that pits prisoners against each other in steel reinforced, heavily armed vehicles, Death Race offers the winner the ultimate prize: freedom — if he can survive to enjoy it.
Danny Trejo
(Machete),
Ving Rhames
(Piranha 3D),
Sean Bean
(The Lord of the Rings trilogy) and
Luke Goss
(Hellboy 2: The Golden Army), star along with returning cast members
Fred Koehler
("Lost") and
Robin Shou
(Beverly Hills Ninja), in an all-new prequel to Paul W.S. Anderson's 2008 adrenaline-fueled action-thriller, Death Race. Helmer
Roel Reine
led the direction for Universal Home Entertainment based on a story by Tony Giglio and original writer-executive producer Paul W.S. Anderson. A deadly driving competition spawns a racing legend in Death Race 2 , an all-out action thrill ride, coming to Blu-ray™, DVD and Digital Download January 18, 2011 from Universal Studios Home Entertainment DVD Originals™.