Movie News
Denzel Washington In The Book of Eli First Look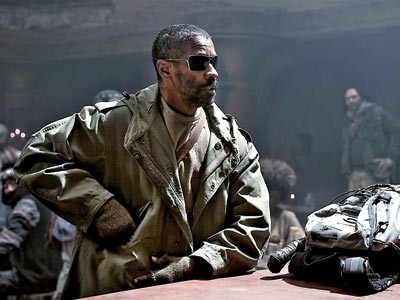 Today we've got the first look at
Denzel Washington
from the upcoming post-apocalyptic sci-fi movie "
The Book of Eli
."
Hughes
brothers,
Allen
and
Albert
, are directing the movie from the script by
Gary Whitta
which stars
Denzel Washington
,
Gary Oldman
,
Mila Kunis
and
Ray Stevenson.
In the movie Washington (Eli) stars as a survivor who is trying to protect a sacred book that holds the secret to saving the future of humanity in post-apocalyptic world. Mila Kunis plays a sexy woman named Solara, who is recruited by Eli (Washington)'s enemies to betray him, but later she ends up joining Washington. Gary Oldman plays Carnegie – the film's villain, a "despot of a small and pathetic town," who's determined to take possession of the book Eli's guarding. Ray Stevenson has become the latest actor to join the sci-fi movie. He's set to continue his homicidal ways – Stevenson will play an enforcer sent to kill Washington's title character – Eli.
"The Book of Eli" hits theaters on January 15th 2010.