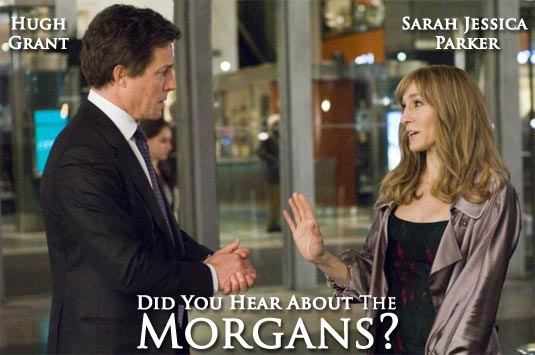 In
Did You Hear About the Morgans?
,
Hugh Grant
and
Sarah Jessica Parker
are supposed to pass for a married couple, but they have all the chemistry of two actors who just met and shook hands moments before the cameras rolled. They don't even seem to like each other much — I'm fairly certain I saw Parker's nostrils flaring in one scene — which poses a bit of a problem for a movie that hinges on their characters working out their differences and living happily ever after…read more [Miami Herald] This is a familiar set-up, used in hundreds of movies to best isolate the comedic potential of the standard fish-out-of-water scenario, but Lawrence doesn't play the lead characters as bumbling nitwits forced to learn hayseed lessons. No, Paul and Meryl are the liberal, elitist surrogates for the audience. They know things about nutrition and animal cruelty, about style and substance the yokels fail to comprehend. I supposed it's a harmless film overall, yet "Morgans" straddles that fine line between farce and character assassination. It's one thing to sit stone-faced watching Lawrence blunder his every single attempt at humor, but the great state of Wyoming doesn't deserve such a slight, even if it serves a larger portrait of broad comedy. Lawrence never has the Morgans embracing their country education beyond a superficial level of communication (at one point Lawrence gives Meryl and Clay a bizarre scene that compares a man's sensitivity to a cow's teat), keeping them at a loathsome level of superiority for the duration of the picture…read more [Brian Orndorf,
Dark Horizons
] Every few years Hugh Grant comes out of hiding to wince and stammer his way to a paycheck, occasionally serving up a pleasant surprise like About a Boy but more often churning out forgettable rom-coms like Music and Lyrics and Two Weeks Notice. His latest film, Did You Hear About the Morgans?, a fish-out-of-water rom-com co-starring Preakness runner-up Sarah Jessica Parker, belongs steadfastly in the latter category — and it might just be the worst of the lot…read more [
Hollywood.com
]
Sarah Jessica Parker stars as Meryl Morris and Hugh Grant stars as Paul Morris in Did You Hear About the Morgans?
You don't want to hear about the Morgans. The actors' faces get a workout: Hugh Grant grimaces and winces. Sarah Jessica Parker smirks and pouts. But none of this will draw even a tepid laugh. In Did You Hear About the Morgans?, they play Paul and Meryl Morgan, a successful Manhattan couple who have separated. Paul has been unfaithful and is trying desperately to win Meryl back…read more [
USA Today
] With a killer tracking their movements as they attempt to disappear into the community — "Green Acres" meets "My Blue Heaven" — for once Hugh faces the possibility of dying of something other than embarrassment, while Sarah Jessica will discover that hoedown means something other than Samantha battling depression. Another inveterate New Yorker — Sal in "Dog Day Afternoon" — once said that the foreign country he would move to if necessary was Wyoming, and Paul and Meryl are equally ill-acquainted with their new homeland. At the local Bargain Barn, she finds that sweaters are $9.99 — and is thrilled. Paul has a question: "Where's the menswear?"…read more [
New York Post]
Hugh Grant and Sarah Jessica Parker have never been known for their range, and Did You Hear About the Morgans? does precious little to suggest their capable of doing more than their usual tired schtick. (I couldn't help but wonder if writer-director Marc Lawrence — whose credits include the Miss Congeniality films, Forces of Nature and Two Weeks Notice — didn't originally craft this as a another Sandra Bullock vehicle.) In Grant's case, it's the befuddled, stammering, blinking-like-crazy white collar Englishman who has to somehow atone for his caddishness; for Parker, it's the materialistic New Yorker professional woman whose romantic woes prevent her from feeling complete. Seriously, when was the last time either of them challenged themselves as actors?…read more [
IGN
] By keeping the focus on the relationship between the two leads – it's no spoiler to let you know that they start to drift back together – the film plays to its pretty much only strength: Parker and Grant. Neither actor is really known these days for churning out winners, but they are seasoned romantic comedy professionals and they manage to inject some wit and warmth into a film that really doesn't deserve it…read more [
TheVine
]
The best moments come thanks to Sam Elliott as Sheriff Clay Wheeler. He does so much with his handful of bad lines, that coupled with his brief turn in "Up in the Air" it makes you wish some enterprising filmmaker out there would put him smack dab in the middle of a movie. Unfortunately there are no good lines for the troubled couple. Grant's whole awkward, apologetic shtick that was charming back in the day is as difficult to write as it is for Grant to pull off, and neither writer nor actor comes close here. Parker is kept in a perpetual state of wistfulness and disappointment so cloying that you start feeling truly sorry for her spouse…read more [
Los Angeles Times
]
Sarah Jessica Parker and Hugh Grant star in Columbia Pictures' comedy DID YOU HEAR ABOUT THE MORGANS?
Did You Hear About The Morgans? charms and delights, not for its fairly standard storytelling, but rather the ongoing kooky chemistry between that comedically symbiotic screen team, Grant and Parker. Though hopefully this unorthodox sort of kiss and make up outing won't have spouses pursuing witness protection as a couples therapy retreat anytime soon…read more [
NewsBlaze
]
Did You Hear About The Morgans? Video Review
[
IndyMogul
]