Movie News
Die Hard 24/7: Further Gruber On The Horizon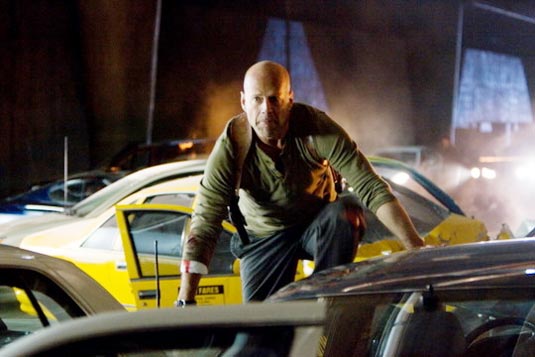 Instead of saying Nothing Last Forever, we instead say that yet another next of kin of Hans Gruber is going to come to the big screen and make John McLane's life more difficult. Even though Fox stated The Playlist that there was no script in place for a Die Hard 5 and that any possible follow up would be off, the Live Free… movie is still running with the title Die Hard 24/7. Back on May 2010 it was publicized that writer Skip Woods (X-Men Origins: Wolverine, The A-Team) was trying to gain some script for a fifth Die Hard and the film will be produced by Alex Young. It was told that Bruce Willis will return again as John McClane and Willis said that he would like to see one more director Len Wiseman and would also like to see the whole story take place outside of the States with an uncertain "Die Hard 24/7" to be a working title of the film. Willis also commented that a fifth entry in the franchise was "imminent" but it seems to be still in early stages or back to the drawing board. On October 5, 2010 Willis broadcasted during a MTV interview that a first draft of the script was ended and the filming should begin in 2011. Regarding a possible Die Hard 6, Bruce Willis told ShowbizSpy,
…for me, I want to do "Die Hard 5," then one final Die Hard movie — Die Hard 6 — before finally hanging that white vest up for good.
Meanwhile,  a keen audience valued Die Hard 4 saying it was incredible, together with all the effects, the situations, the F-35 scene, the pursuit, the tunnel scene, and that everything was really unpredictable. They are assured that fourth installment is full of impressive scenes and impressive fights scenes too. Will Willis be able to repeat that success? Despite the fact that we guess the initiative to join NY cop John McClane with Jack Bauer in the fifth sequel is now out. What do you think?