Movie Posters
First Poster For Disney's PLANES Plus Character Posters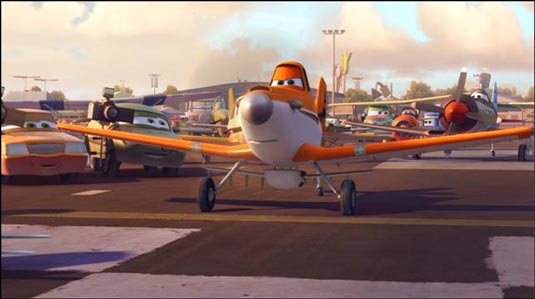 Here we have the first official poster and quite a bunch of character posters from the upcoming Disney's family animated movie, Planes, a Cars spin-off. Take a look at the feisty Dusty, world champion racer Ripslinger and the charming El Chupacabra fly in formation as Disney debuts their brand new poster:
Audiences worldwide are fastening their seatbelts as Disney's Planes prepares to take off this summer.
Adding some high-flying flair from a classic feature film are Anthony Edwards and Val Kilmer. Val Kilmer provides the voice of Bravo and Anthony Edwards is the voice of Echo. Both are members of the Jolly Wrenches and fans of air racing.
Stacy Keach (The Bourne Legacy) provides the voice of Skipper, a reclusive old Navy Corsair who takes Dusty's training to a whole new level.
Brad Garrett (Everybody Loves Raymond) lends his voice to fuel truck Chug, Dusty's buddy, coach and biggest fan.
Teri Hatcher (Desperate Housewives) brings life and charm to the say-it-like-it-is mechanic Dottie.
Cedric the Entertainer (Madagascar) as Leadbottom, a puttering old biplane who has no time for Dusty's far-fetched flights of fancy.
Julia Louis-Dreyfus (Seinfeld) lends her voice to Rochelle, a tough and confident racer who is the pride of the Great White North.
John Cleese (Monthy Python's Flying Circus) is the voice of Bulldog, the oldest and arguably wisest racer on the circuit.
Carlos Alazraqui (James Garcia on Comedy Central's Reno 911) brings to life the intensely charming El Chupacabra, a racer with more dramatic flair than is recommended at high altitudes.
Priyanka Chopra (Barfi!) voices the exotic, mysterious and ruthless Ishani, the reigning Pan-Asian champion from India.
Roger Craig Smith (Captain America in Disney XD's Marvel's Avengers Assemble) voices world champion racer Ripslinger – wings down, the biggest name in air racing – and he knows it.
Gabriel Iglesias (Comedy Central's Gabriel Iglesias Presents Stand-up Revolution) provides the voices of both Ned and Zed, two not-so-sharp saboteurs who work for Ripslinger.
Colin Cowherd (ESPN) gives play-by-play coverage as Colin Cowling, an affable blimp and an eye-in-the-sky reporter for the Racing Sports Network.
Sinbad (Comedy Central's Where U Been?) brings to life Roper, an irascible race official pitty full of sly remarks and colorful commentary.
Brent Musburger (ESPN) brings Brent Mustangburger, the excitable 1964½ Ford Mustang sports broadcasting icon, back to the big screen.
Recently added Dane Cook, as the voice of main character, the 'feisty Dusty'. Finally, Oliver Kalkofe (Neues vom Wixxer) provides the voice of meek German minicar Franz and his brazen airborne alter ego Fliegenhosen (no poster so far, for some reason). Also, take a look at the trailer, in case you've missed it: Inspired by the world of Cars and directed by Disneytoon Studios veteran and aviation enthusiast Klay Hall, Disney's Planes is an action-packed 3D animated comedy adventure about Dusty's dream of competing as a high-flying air racer – and his decidedly unfortunate fear of heights. The film takes off in theaters in 3D on August 9th, 2013.