Movie News
FANTASTIC FOUR Eyes Miles Teller for Mr. Fantastic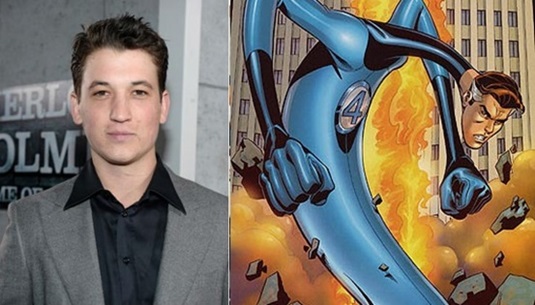 Miles Teller
is one of the actors in-contention for the leading role of Reed Richards/Mr. Fantastic in the upcoming reboot of
Fantastic Four
from
Chronicle
's director
Josh Trank
.
The Spectacular Now
star is reportedly the director's top choice with shooting set to start this September in Louisiana. Trank is directing from script by
Seth Grahame-Smith, Michael Green
and
Jeremy Slater.
Furthremore,
Alison Williams
(Girls) is being eyed for Sue Storm a.k.a. The Invisible Woman, and
Michael B. Jordan
(Fruitvale Station) is a possibility for Sue's brother, Johnny Storm a.k.a. The Human Torch.
Fantastic Four
is scheduled for a March 6th, 2015 release, though other details are still under wraps. In the comics the story starts when 'Reed Richards, Sue Storm, Johnny Storm and Ben Grimm board a shuttle to work on a scientific mission in space. Their ship winds up getting hit by cosmic rays that gives each of them very special powers: Reed, as Mr. Fantastic, can bend his body into any shape; Sue, as The Invisible Woman, can both disappear and project force fields; Johnny, as the Human Torch, can control fire and fly; and Ben, as The Thing, has his entire body covered in hard stone and is given amazing strength. Using their powers for good they fight off the forces of evil.' What do you think of the gray-haired elder statesman played by the up-and-coming star turned 26 this year?