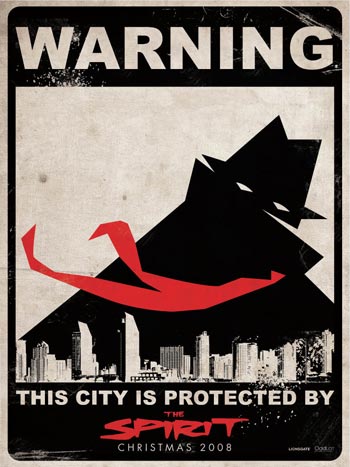 On behalf of
Lionsgate
, we are pleased to present the first poster in a series from "
The Spirit
" Art School Program. Lionsgate has partnered with nine prestigious arts schools nationwide and presented nine student-designed advertising campaigns for the film which will be unveiled throughout the summer in the individual cities that are home to the nine schools. "
The Spirit
" Art School Program launched this past weekend at the annual Comic-Con convention in San Diego, where The Art Institute of California-San Diego introduced its campaign. San Diegans will learn that they are now being protected by the masked crusader as Spirit Neighborhood Watch signs are posted in strategic locations around the city. Classic action-adventure-romance film "
The Spirit
," directed by
Frank Miller
(creator of 300 and Sin City). The movie stars
Gabriel Macht
as a former rookie cop who returns mysteriously from the dead to fight crime from the shadows of Central City.
Samuel L. Jackson
stars as the Octopush, his arch-enemy on a mission to wipe out Spirit's beloved city as he pursues his own version of immortality. And
EvaMendes
is just one of several lovelies in the cast.
Sarah Paulson, Scarlett Johansson, Paz Vega, Jamie King,
and
Stana Katic
all star as ladies that either want to seduce, love or kill the masked crusader. "The Spirit" is scheduled to hit theaters on Christmas (December 25th) 2008.