Ron Howard's new F1 film Rush remains a bit of an undiscovered up-and-comer; not to mention the sales art one-sheet that was for the Cannes Film Festival. F1 drama is already shooting on location in the UK, Germany and Austria We've been hearing about casting — Chris Hemsworth (The Avengers) as F1 race star James Hunt and Daniel Bruhl (Inglourious Basterds) as his long-time rival Niki Lauda. The film co-stars Olivia Wilde, Natalie Dormer and Christian McKay. Howard's team also includes Oscar-winning cinematographer Anthony Dod Mantle (Slumdog Millionaire). Script writer is Peter Morgan (Last King of Scotland
Hit the jump to watch the featurette that does a superb job of recapping the history, and gives us a tease at the intensity and drama. [youtube]http://www.youtube.com/watch?v=H-xqy-ksqvs[/youtube] Synopsis:
Set against the 1970's golden age of Formula 1 racing, Rush portrays the fast-paced and exhilarating true story of two of the greatest rivalries the sport has ever witnessed – that of James Hunt (Chris Hemsworth) and Niki Lauda (Daniel Brühl) and their illustrious Formula 1 racing teams, McLaren and Ferrari. A privileged, charismatic and handsome English playboy, Hunt could not be more different from his reserved and methodical opponent, Austrian born Lauda. "Rush" follows their personal lives both on and off the track and charts their rivalry from its inception in Formula 3. Here they competed viciously against each other until Lauda's business acumen and surgeon like precision behind the wheel propelled him all the way to Formula 1; eventually landing him the number one spot at Ferrari. However it was not long before rambunctious golden boy Hunt fought his way into Formula 1, and into the hearts of a nation, dramatically seizing the championship from Lauda and proving to the critics, and more importantly himself, that there was real substance beneath the stylish exterior.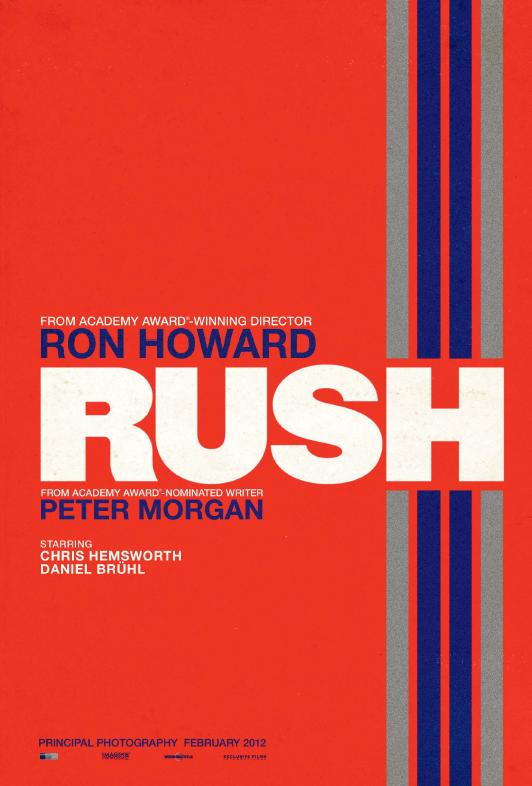 There's currently no release date for Rush.