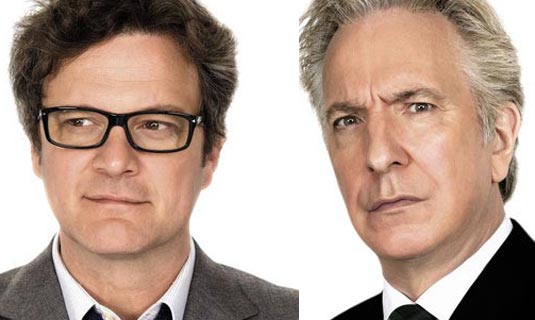 So, you're here to check out those two completely new posters for the upcoming
Gambit
movie? Ok then, we have all you need, which basically means we have
Colin Firth
,
Cameron Diaz
and
Alan Rickman
. And a lion. Because, well..
the con is on
, whatever that means! The thing is that these are the first international posters for
Michael Hoffman
's new comedy, which definitely has some interesting cast on board, and that's exactly why you should read the rest of this report… Beside funny looking Firth, Diaz and Rickman, the movie also stars
Tom Courtenay, Stanley Tucci
and
Cloris Leachman
, and the whole thing is based on the well-known 1966 British comedy with Michael Caine and Shirley MacLaine in the leading roles. But in case you're not so familiar with that one, we will remind you that Gambit is a story of Harry Deane, played by Firth, a London art curator who enlists a Texas Rodeo Queen (played by Diaz) in a scheme to con the richest man in England. And if you take a good look in that second poster you'll recognize the richest man and art collector, Lionel Shabandar, or if you prefer – Alan Rickman. At the end of this report, let us also add that
The Coen Brothers
wrote the remake and that the whole thing is already set to hit the UK theaters on November 21st, 2012. It's safe to guess that the movie will open here in US sometime next year. So, anyone interested in this one so far?