Movie Trailers
First LAY THE FAVORITE Clip Starring Bruce Willis and Rebecca Hall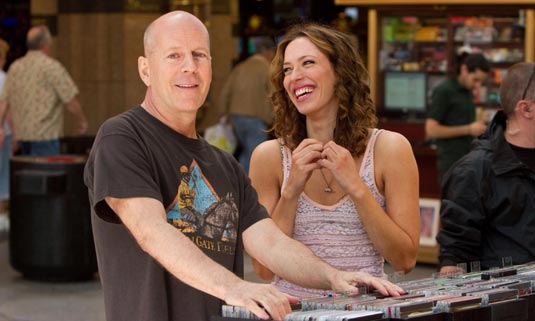 Here's the first clip from the upcoming Lay The Favorite movie which will show you that Bruce Willis is a good singer.
No, he's not singing Save The Last Dance, he's up to The Air That I Breathe this time. Either way, it sounds good (probably because Rebecca Hall sings together with him), so make sure you check it out!
I'm sure you know, but we're here to remind you that this movie is directed by Stephen Frears and that it will premiere at this year's Sundance Film Festival, on the 21st of January.
The movie has quite interesting cast on board, which, beside Willis and Hall also includes Catherine Zeta-Jones, Joshua Jackson, Vince Vaughn, Laura Prepon and Corbin Bernsen.
The movie centers on a woman (Hill) who leaves her dancing job at a Florida strip club to become a Las Vegas cocktail waitress. In walks Dink (Willis), a professional sports bettor who offers her a job placing wagers all over town to gain an advantage over the casinos.
Her surprisingly impeccable mind for numbers soon cements her status as Dink's good-luck charm, until his gorgeous-but-frigid wife, Tulip (Zeta-Jones), starts to get jealous. Faced with no other choice but to fire Beth, Dink's luck runs out when she heads to New York to work for a smarmy bookie, a turn of events that lands her squarely on the wrong side of the law.
Let us know what you think!