Movie Photos
First Look At Alexander Ludwig In LONE SURVIVOR!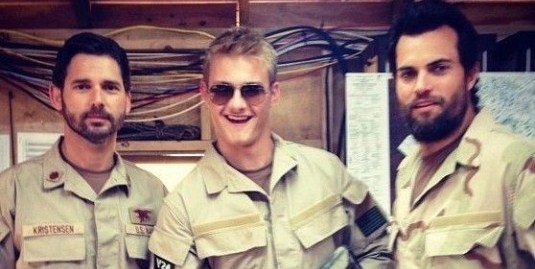 Alexander Ludwig will have quite difficult job in the upcoming Lone Survivor movie, but he definitely looks more than ready to fight against some dangerous terrorists! Don't trust me? C'mon, we're talking about a Navy Seal member! Well, you better check out these first set photos from the whole thing, and make sure you let us know what you think!
In case you're not so familiar with this war-drama, I will first inform you that director Peter Berg stands behind the whole thing, and that, beside Ludwig, the movie also stars Ben Foster, Taylor Kitsch, Mark Wahlberg and Eric Bana.
Lone Survivor will tell us the story of a Navy Seal who led a team into Afghanistan on a mission to kill a Taliban leader but was the only one to survive.
As we previously reported, the movie is based on the non-fiction book written by Marcus Luttrell, and in case you want even more details about the story, here's the official description of Luttrell's book:
Four US Navy SEALS departed one clear night in early July 2005 for the mountainous Afghanistan-Pakistan border for a reconnaissance mission. Their task was to document the activity of an al Qaeda leader rumored to be very close to Bin Laden with a small army in a Taliban stronghold. Five days later, only one of those Navy SEALS made it out alive. This is the story of the only survivor of Operation Redwing, SEAL fire team leader Marcus Luttrell, and the extraordinary firefight that led to the largest loss of life in American Navy SEAL history. His squadmates fought valiantly beside him until he was the only one left alive, blasted by an RPG into a place where his pursuers could not find him. Over the next four days, terribly injured and presumed dead, Luttrell crawled for miles through the mountains and was taken in by sympathetic villagers who risked their lives to keep him safe from surrounding Taliban warriors. A born and raised Texan, Marcus Luttrell takes us from the rigors of SEAL training, where he and his fellow SEALs discovered what it took to join the most elite of the American special forces, to a fight in the desolate hills of Afghanistan for which they never could have been prepared. His account of his squadmates' heroism and mutual support renders an experience that is both heartrending and life-affirming. 
Let us know what you think about Lone Survivor so far, and stay tuned for more updates!