Movie Posters
First Look At GODZILLA Featured On New Licensing Expo Poster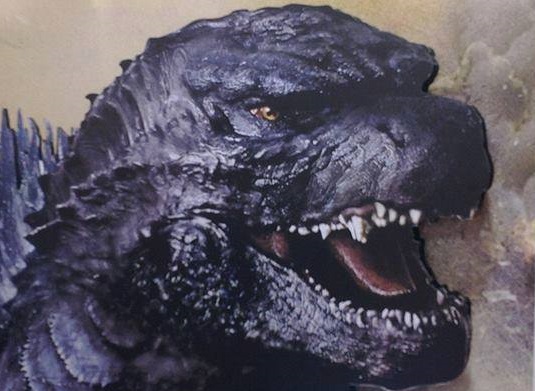 Here's our first look at Toho's iconic the King of the Monsters rebirth from a promotional poster that surfaced at a recent licensing expo in Sao Paulo, Brazil. The poster depicts
Godzilla
's modernized, yet classic face, showing off its razor teeth along with a slight view of his dorsal spikes. The upcoming
Godzilla
remake stars an all-star cast of accomplished performers including
Aaron Taylor-Johnson, Ken Watanabe, Elizabeth Olsen, Juliette Binoche, David Strathairn and Bryan Cranston
.
Gareth Edwards
is directing Legendary Pictures' modern reboot from a screenplay by a team that includes
Max Borenstein, Frank Darabont
and
Dave Callaham
.
Godzilla
is scheduled to be released in movie theaters in the U.S. on May 16th, 2014.
Seems that Edwards has accomplished his promises that the classic version of the creature (described as 'a cross between a gorilla and a whale'  when first appeared in Ishirō Honda's 1954 original film) was always at the heart of the design process. What do you think?
An epic rebirth to Toho's iconic Godzilla, this spectacular adventure, from Warner Bros. Pictures and Legendary Pictures, pits the world's most famous monster against malevolent creatures who, bolstered by humanity's scientific arrogance, threaten our very existence.